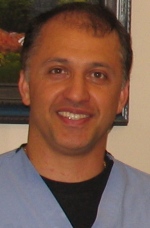 Torrance, CA (PRWEB) October 19, 2011
It can be easy to get lost in the world of dentistry. Patients are unsure of which dentists or cleaning systems to choose to keep their smile bright and healthy at an affordable price. This is why one particular dentist is making locals the choice just a little bit easier. Dr. Mondavi, dentist in Torrance, is now offering a new patient package for just $49 to give patients a healthy smile once again.
Robert Mondavi, DDS, Dentist Torrance
For those that have been neglecting the dentist's office for years, or have not found a new dentist after a recent move, the problem can snowball. After some time, many just give up on it, refusing to schedule a dental exam for months or even years. Not only will the brightness of teeth suffer from this neglect, so will their health.
Nearly everyone in Southern California has been ingrained with the mantra of regular visits to a dentist, but not all understand exactly why this is needed if their teeth feel fine. The answer lies in the world of preventative treatment. Even with regular brushing and good oral hygiene, problems do occur within the mouth. Quick procedures, such as dental x-rays, will allow dentists to detect problems before they ever take place. If certain problems are left unchecked, they may lead to pain, discomfort, the need for surgery, and even periodontal disease down the road.
Dr. Robert Mondavi, Cosmetic Dentist Torrance
Dr. Mondavi also remains the leading cosmetic dentist in Torrance with a dozens of options for dental cleaning and whitening. For patients with severely discolored or damaged teeth, Dr. Mondavi has trained extensively with porcelain veneers that will give individuals a beautifully complete smile for upwards of twenty years. As a Torrance cosmetic dentist, Dr. Mondavi also works with all manner of restorations ranging from simple whitening to full implants and bridges.
As the warm summer months slowly transition into fall in sunny Southern California, many locals are finding that it is time to finally pick up that phone and get back into the dentist's office. When it comes to finding a Torrance dentist, the choice now seems clear with Dr. Mondavi's new patient package for just $49.
Visit http://www.robertmondavidds.com for more information about the new patient package. You can also call (310) 363-7126 or visit their office at 17311 Yukon Ave in Torrance, CA 90504.
PR by AvitalWeb, SEO Company
###