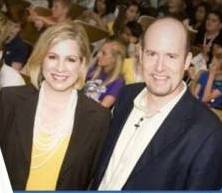 I've been fascinated to see women excel in business and networking during the recent economic downturn...
Tulsa, OK (PRWEB) June 24, 2012
When Michael D. Butler's good friend and Spark and Hustle speaker, Cindy W. Morrison recommend he come to Tulsa's Spark and Hustle he immediately thought of a number of stories and news angles that could be covered based on the recent success of women business owners.
"I've been fascinated to see women excel in business and networking during the recent economic downturn,' said Butler, 'I think women have this natural God-given intuitive understanding of how to nurture and launch a start-up that probably comes from the ability to prepare for and nurture babies into maturity. It's been exciting to watch the launch, growth and social reach and impact of Spark and Hustle, Tory Johnson, Cindy W. Morrison and the entire brand. I highly recommend women and men if Spark and Hustle is coming to your city be there and if they are not coming to your city then travel to one-it will be worth it," Butler went on to say.
Tulsa watched, first-hand, the reinvention of Cindy W. Morrison in the down economy as ABC began layoffs that forced Cindy to reinvent herself quickly using social media and launching her speaking, consulting and Web 2.0 career after 20 years as an award winning broadcast Journalist as she shares in this video interview with Michael Butler.
Last year, the inaugural year, only Tulsa, Atlanta, Boston, Chicago, Dallas, Los Angeles, New York and Orlando. This year sees the addition of these plus: Denver, Detroit, Houston, Minneapolis, Nashville, Phoenix, Pittsburg, Raleigh, San Francisco, Seattle, Tampa and Washington D.C.
Morrison began her career as a journalist in Oklahoma and never imagined doing anything else. She spent 20 years in the state as an award winning TV broadcaster winning an Emmy for her groundbreaking investigations and a Peabody for coverage of the Oklahoma City bombing.
After 12 years at a local TV station, her contract came up for renewal in the midst of layoffs and management opted not to sign her to a new contract. Cindy's 5 p.m. anchor seat remained vacant for a year and a half after her departure.
Morrison decided to reinvent herself through social media and became a social media coach to entrepreneurs and corporate executives. In addition, her book titled Girlfriends 2.0 sold more copies in prerelease than most first time authors. The national version of the book debuts in New York City and book stores nationally this February.
"Spark and Hustle not only provides information and inspiration but also the steps that will help women make more money. Following the event, participants will know what they should do that Monday after the conference and every day in the future," adds Morrison. "This is about taking the spark that they have to build or reinvent a business and showing them where to put their hustle to make it happen."
For more information, visit http://www.sparkandhustle.com, or call 212-290-2600.
Cindy Morrison, Social Media Strategist
Emmy-winning journalist Cindy Morrison teaches everyone from network TV journalists to corporate CEOs how to strategically use social media to build brand loyalty, raving fans and their bottom line. Her social media savvy has been highlighted on national media like CBS's "The Talk" & The Washington Post and she's even helped create social media buzz at star-studded Hollywood fundraisers.
Michael D. Butler, Business Catalyst
Michael D. Butler, Tulsa, OK is considered by many a leading Social Media Strategist and is the Founder of M3 New Media a Digital Social Media and PR Firm that markets Book Authors, Brands and Businesses on 5 Continents and is the Co-Founder of The Venture Network a B2B Networking Organization based in Tulsa, OK.