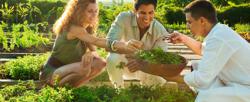 (PRWEB UK) 13 February 2013
Kenwood Travel has today reached Day Three of its Total Fitness Week, looking at resorts and hotels from around the world that have a heavy concentration on health, wellness and fitness. After considering resorts with complete fitness programmes and the healing, rejuvenating properties of natural spas, today the onus is on diet. Shanti Maurice in Mauritius is a particular forerunner in personalised dieting, optimising cooking techniques to absorb maximum amount of minerals and vitamins, and reduce fat intake according to customers' personal needs.
What's more, an exclusive 15% discount is available for one week only for customers booking with Kenwood Travel, making Shanti Maurice a hotel, and an experience, not to be missed.
Furthermore the Shanti Maurice boutique resort, on Mauritius' spectacular south coast, is a specialist in local cuisine. The resort has it own herb and organic vegetable garden on site, and the executive chef designs exquisite mouth watering fare that is as healthy as it is delicious. Menus are designed with guests' unique dietary and total fitness requirements in mind, and Mauritian food is a wonderful blend of wholesome fare from the Far East mixed with Creole influence from French colonial times.
Furthermore guests can feel more spiritually enriched with an experience in Grandma's Kitchen. Two years ago the grandmother of the resort employees opened her doors to Shanti Maurice guests and the move has proved very popular, as guests join grandma on ingredient-finding hunts, and have a home-cooked Mauritian meal with friends and family.
As part of Total Fitness Week, Monday's onus was with The BodyHoliday LeSport, Saint Lucia, and its total fitness regime, including year long programmes, classes and sessions to give its guests constant rejuvenating workouts. Yesterday the focus was on relaxation as The Banjaran Hotsprings Retreat, Malaysia, demonstrated how a geothermally heated resort can relax and re-invigorate the tired mind. Today the onus is on exceptional diet.