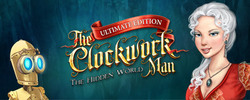 "If you haven't tried this game yet, you're missing out on an amazing experience. If you're a Hidden Object game fan, you'll definitely love it!" - Ana from the Philippines
Thessaloniki, Greece (PRWEB) July 30, 2010
Total Eclipse (http://www.totaleclipsegames.com) announces the availability of The Clockwork Man: The Hidden World - Ultimate Edition. The game was released on July 21st and within one week it sold thousands of copies worldwide and received glowing customer reviews. Its localization in 7 additional languages has already begun.
The Clockwork Man: The Hidden World is the highly anticipated sequel to the successful 2009 Hidden Object/Adventure The Clockwork Man, the first casual game with a Steampunk theme and unique Scrolling & Zoomable multi-layered scenes. Both games are published by Gamehouse.
The Clockwork Man 2 brings twice as much fun, puzzles, adventure game play and a story that will captivate you. Resume your role as Miranda Calomy as you, and your robot sidekick Sprocket, embark on a steam-powered journey through land, sea, and air. Immerse yourself in seven gorgeous chapters with captivating locations and clever, mind-boggling puzzles. With help from an innovative, progressive hint system and Sprocket's upgraded abilities, it will be a journey to remember!
The Ultimate Edition, available only through the developer, Total Eclipse, adds a Game Guide with fully illustrated walkthrough and video solutions to all puzzles, the original orchestral soundtrack, concept art, gorgeous wallpapers, character biographies, a music player and more!
For the first time in the casual games scene, the Ultimate Edition includes both PC and Mac versions of the game and is free of DRM and downloaders.
To celebrate the warm reception to the game and introduce this great series to new fans of the genre, Total Eclipse offers The Clockwork Man and The Clockwork Man: The Hidden World at a special bundle price until the beginning of August. Order now at http://www.theclockworkman2.com/bundle.html
About Total Eclipse
Total Eclipse, a subsidiary of Zefxis, designs and develops online and downloadable games, catering to a wide audience. Successful past releases include The Clockwork Man, Fashion Boutique, Academy of Magic & Bounty.
At Total Eclipse, we believe that making games should be like playing games: Fun! We are very passionate about our projects and take great pride in our work. We strive for perfection so we can offer the best to the player, by developing original concepts that guarantee a thrilling experience with long-lasting appeal. We give great attention to detail, aiming to please even the most demanding players in the market.
For Media Kit use http://www.totaleclipsegames.com/en/media-kit/
For Additional Information contact:
Argiris Bendilas
press (at) totaleclipsegames (dot) com
###