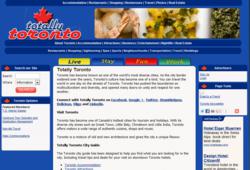 ...the fresh design for Totally Toronto will achieve results greater than the success of Totally Barbados.
(PRWEB) July 11, 2012
With the ever developing world class status of the city of Toronto, it is part of the Totally Toronto vision to position itself in the best possible way to showcase Canadian travel destinations in an interesting and information manner.
Totally Toronto travel guide website has been redesigned and is a travel destination guide for the city of Toronto with all of the information needed to know more about this popular destination.
According to the Internet World Stats internet usage from 2000 - 2011 grew over 500 percent with close to 50% of the users in Asia. This is greater than the growth in energy usage (approx. 170%) and growth in world population (approx. 27%) according to Wikipedia.
Based on these numbers and according to Econsultancy in connection with Google one third of people use the mobile web daily! The world we live in is certainly becoming a world wide web. With 85% of users claiming to seek information via web and 81% taking action based on this information (Econsultancy) it is imperative that your destination be properly represented on an internet site.
Totally Barbados has been an award winning travel destination guide featuring information for Barbadians and visitors to Barbados alike. With 7 news and marketing awards for a travel site it most certainly serves as inspiration for the development, redesign and launch of Totally Toronto dot net.
According to the CHTA review (2010) the technology developed by Mr. Callaghan accomplishes what 95% of other websites overlook, ensuring 24 hour access quickly, easily and almost perfect cross browser platform compliance.
Brett Callaghan is the brains behind the Barbados travel guide – envisions his newly launched Totally Toronto website to not only closely match the Barbados web experience, he believes it will exceed in popularity.
'By careful planning, the Totally Barbados business plan will allow us to extend our technology unlike any other and will allow us to grow into other islands and countries. The way we allow Barbados businesses to promote their products and services, allows for maximum exposure and increased awareness to those travelling to Barbados." (Brett Callaghan 2010).
Being a Barbadian / Canadian, Brett's next project is developing his dream with Totally Canada Inc. with the city of Toronto as the first to benefit.
According to Mr. Callaghan the fresh design for Totally Toronto will achieve results greater than the success of Totally Barbados.
Congratulations Toronto, Totally Toronto dot Net has arrived - newer, faster and much more user friendly.
Totally Toronto is positioned to make Toronto Totally Your Choice for Toronto Travel.
--
Totally Canada Inc., operating under the name 'Totally Toronto' is based in Toronto, Canada with offices in Barbados. The company was incorporated under the Business Corporations Act (Ontario) on September 23rd, 2010.
Totally Toronto aims to help local businesses shine alongside Toronto's corporate titans. With valuable business exposure on Totally Toronto, businesses will gain increased exposure online, before a visitor even steps outside their home, hotel or airplane.
Promoting all there is to know about Toronto - that's Totally Toronto.
About Totally Toronto
Founder and Managing Director
Brett Callaghan.
Totally Canada Inc. / Totally Toronto
30 Silvermoon Avenue,
Toronto, Ontario,
L7E 2&9, Canada
For more information on Totally Canada Inc. / Totally Toronto / Totally Barbados, please call (866) 978-5898 or (416) 628-8795.
Email: service at totallytoronto.net