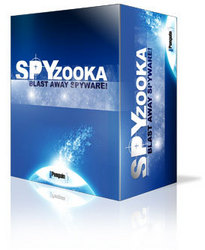 SpyZooka is an award winning antispyware program, which has been eliminating rogue programs like Total PC Defender for more than five years.
Sequim, WA (PRWEB) February 6, 2010
BluePenguin Software is excited to announce that its award-winning antispyware software, SpyZooka, is able to remove the rogue Total PC Defender from infected systems. SpyZooka has been removing spyware, adware, Trojan horses, keyloggers and other security threats since 2004. Its sophisticated algorithms have made SpyZooka a reliable and effective tool in protecting one's system.
As the recognized antispyware industry leader, SpyZooka has won several awards including the prestigious Tucows 5 Cows. SpyZooka is a member of the Better Business Bureau and is backed a 100% satisfaction guarantee.
Total PC Defender is one in a long line of fraudulent programs disguised as a legitimate security application. As with other rogues, Total PC Defender uses scare tactics to convince users of the urgent need to purchase the malicious software. Total PC Defender attaches itself to a system without the user's permission or knowledge. Often this happens when the user downloads an audio or video codec, which appears beneficial, but which is actually infected with Total PC Defender.
Once Total PC Defender is attached to a system, it will inundate the screen with series of fake security warnings designed to scare the user into going to the Total PC Defender website and purchasing the ineffective software. This is not recommended as it will further compromise the systems security.
Some users have attempted to manually remove Total PC Defender. However, the program is designed to disable Windows Task Manager making the process of manual removal a frustrating, time consuming and costly experience. Instead, industry experts recommend investing in a high quality, reliable antispyware program like the award-winning SpyZooka.
Selecting a legitimate antispyware program can be difficult as there are many choices and some of them are rogues in disguise. To ensure the purchase of an effective antispyware program, look for one that is backed by a 100% satisfaction guarantee and is recognized as a leader in the industry, like SpyZooka.
SpyZooka has been removing spyware like Total PC Defender for more than five years and has established itself as an industry leader due to its ability to effectively identify and remove security threats. SpyZooka has won several awards including Wugnet's Shareware Hall of Fame and the prestigious Tucows 5 Cows. Visit http://www.BluePenguinSoftware.com to receive a complementary scan and to learn more about how SpyZooka protect systems from Total PC Defender and other security threats.
###