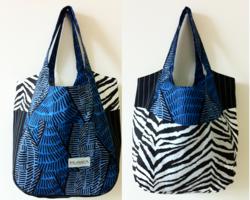 "we are only one small piece of the manufacturing patchwork in NYC. As more entrepreneurs enter their local market's ...building a clearer image of what Made in America looks like."
New York, NY (PRWEB) March 22, 2013 (PRWEB) April 08, 2013
Jon Murata, entrepreneur and founder of Collage Artisan Workshop http://www.collageartisanworkshop.com, is bucking outsourcing trends, and embracing "Made in USA" by manufacturing his tote bag designs exclusively in NYC.
Murata said "we are only one small piece of the NYC manufacturing patchwork. As more entrepreneurs enter their local market's more pieces of the patchwork are stitched in, building a clearer image of what Made in America looks like." He believes by sharing their story they can contribute to the rebuilding of Made in USA.
As overseas outsourcing has expanded, U.S. manufacturing has suffered the brunt of the blow. According to a report on outsourcing by Working America, "Manufacturing employment collapsed from a high of 19.5 million workers in June 1979 to 11.5 workers in December 2009, a drop of 8 million workers over 30 years. Between August 2000 and February 2004, manufacturing jobs were lost for a stunning 43 consecutive months—the longest such stretch since the Great Depression." Manufacturing plants have also declined sharply in the last decade, shrinking by more than 51,000 plants, or 12.5 percent, between 1998 and 2008. These stable, middle-class jobs have been the driving force of the U.S. economy for decades and theses losses have done considerable damage to communities across the country. 5 Facts About Overseas Outsourcing, by Alex Lach
Collage Artisan Workshop is a manufacturer of exclusive, high quality, handcrafted, artisan tote bags and accessories made in New York City. Each design is of hand selected fine fabrics, patterns, texture, and skins that combine to create something rich and unique; unlike anything in the current retail market. Each design is made of a combination of hand-selected fine fabrics and leathers in distinctive patterns, textures and colors, which create rich and unique wearable art. Murata finds his inspiration in exciting, and often unexpected combinations of contrasting culturally diverse motifs, such as putting together camouflage with Italian wool or Indian silk brocade with Indonesian ikat or batik."
Murata and Collage Artisan Workshop aspire to be an influential force in the women's accessories market, leading the trend towards individualism and self-expression. Our customers appreciate the exclusivity and individuality of our designs. Collage Artisan Workshop's products are made of the finest short run fabrics. All designs are Limited Editions or are one-of-a-kind. Today's clients are now looking for self-expression not "same-old-same-old". Murata offers something that is totally unique and individual.
This April, Murata is offering his unique hand-crafted Collage Artisan Workshop designs at a private show in San Francisco, and at Atelier 8 in Los Angeles."
Jon Murata is an accomplished and experienced professional in the American fashion industry. After receiving his BFA from Otis/Parsons School of Art & Design, he went on to create and grew and develop several successful retail brands, including Belly Basics maternity wear and Shining Star dancewear. He brings his strong marketing skills and business savvy in developing and bringing forward all aspects of a company. Murata also offers different product lines in addition to Murata Artisan tote bags, including Murata scarves, and Murata evening bags.
To learn more about Collage Artisan Workshop, please feel free to visit
http://www.CollageArtisanWorkshop.com Or http://www.facebook.com/CollageArtisanWorkshop
For inquiries, please contact Jon Murata at (646) 519-7235 or send emails to jon(at)collageartisanworkshop(dot)com.
Testimonials: I absolutely love my large tote and also purchased two evening bags and will definitely buy more for gifts. Always getting great comments on the unique beauty of my bags, and people asking where I got them. I'm very happy with both styles and I'm looking forward to getting new colors and patterns. Thanks so much for creating these gorgeous designs! – Valerie L.