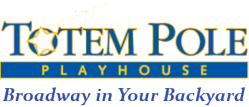 "We are highly committed to making 2013 the year that wows our patrons time and again..." Nathan Rotz, Executive Director
Fayetteville, PA (PRWEB) February 14, 2013
With a return to seven shows for the first time in nearly forty years, Totem Pole Playhouse's 2013 regular season is drawing lots of attention from theatre fans eager for choice seats months before the curtain rises on the first production. Increased interest in the season has resulted in the non-profit theatre located amongst the trees of Caledonia State Park in the heart of historic south-central Pennsylvania seeing a substantial increase in early ticket and subscription sales over the 2012 season.
Since opening the box office for 2013, Totem Pole Playhouse management has seen a 76 percent increase in full season subscribers renewal over the same period last year. Individual ticket sales are up 103 percent over 2012 and four-show Passports, formerly called Flex Subscriptions have increased as well. Overall, the theatre has booked nearly 15,000 reservations and sales for the season that runs from May 25 through September 1 resulting in an astounding 194 percent increase in revenue to date versus the same time frame in 2012.
Always a popular attraction recognized for excellent productions, the 2013 season at Totem Pole Playhouse has been billed as a comeback season, designed to celebrate and bring new life into the community. Beyond the expanded, high-caliber, variety-filled production line-up, the shows of the 2013 season feature the largest casts in decades and represent Totem Pole's most ambitious year ever. "We are highly committed to making 2013 the year that wows our patrons time and again to reinvigorate the magic and excitement that Totem Pole is famous for," said Nathan Rotz, Executive Director of Totem Pole Playhouse. "So far, if the excitement we're seeing and huge increases in sales and reservations since last year is any indication, we're well on our way there," Rotz added, continuing, "People are telling us that they really appreciate being able to take advantage of world-class productions at the affordable prices we can charge because every penny goes toward the production."
Because of the high volume of sales and reservations so far this year, seasonal and Passport subscribers from last year are encouraged to keep their seats by renewing by March 1 for Season Subscriptions and by April 1 for Passport Subscriptions to get priority seating. Individual adult admission starts as low as $19.50 depending on the production.
Totem Pole Playhouse's 2013 season is sponsored by the Franklin County Visitors Bureau and Patriot Federal Credit Union. Complete information about productions, seating, subscriptions and individual show sales is available on the Totem Pole Playhouse website at TotemPolePlayhouse.org and the friendly box office staff is standing by at 717-352-2164 or 888-805-7056. Call volume has been higher than average but the staff will promptly return calls when a message is left.
###
About Totem Pole Playhouse
Nestled in Caledonia State Park about 13 miles west of Gettysburg and 10 miles east of Chambersburg on U.S. 30, Totem Pole Playhouse has become home to an enclave of professional performing artists including Jean Stapleton, Curtis Armstrong, Harry Groener, Henry Strozier, John Ritter, Barbara Feldman and Sandy Dennis. Totem Pole Playhouse opens its 63rd season in May of 2013. For more information about Totem Pole Playhouse, the line-up of productions for the 2013 season, or ticket information, please visit http://www.TotemPolePlayhouse.org.