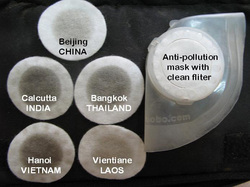 The TOTOBOBO anti-pollution masks came in very useful in India! Check out the used filters after 6 hours' use in Delhi, Calcutta, the Indian countryside and Bangkok. The countryside one was especially shocking - even far from cities and factories the air
Beverly Hills, CA (PRWEB) July 31, 2010
Goska Romanowicz and Hervé Bonnaveira trekked across Asia for Dévélotour Asia, covering over 16,000 km on their bicycles. Their mission was to spread environmental awareness, promote sustainable development, and see the facts on the ground for themselves when it comes to air and water quality, pollution, and desertification. They recently released a DVD documenting their journey, available on their website for 15 euro.
Aware of the poor air quality across the continent, Goska and Hervé wore Totobobo air filter masks to protect their lungs from harmful airborne pollutants. The masks, produced in Singapore, filters 96% of particles 0.3 microns or larger—including vehicle exhaust, soot, smoke, and dust. From Delhi to Beijing and everywhere in between, the Totobobo mask kept the two cyclists healthy and able to continue their mission. The pollutants in the air stayed in the filter and never reached their lungs.
As they rode on, they had a slew of used filters, each one was stained with the pollutants that once choked the air. Hervé and Goska devised an innovative way to test air quality wherever they rode. By changing the removable filter from the mask every six hours, they could quite clearly demonstrate the amount of pollution that was in the air where they were. Over the course of their travels they collected a detailed air quality map of the continent. Goska reported that
"The TOTOBOBO anti-pollution masks came in very useful in India! Check out the used filters after 6 hours' use in Delhi, Calcutta, the Indian countryside and Bangkok. The countryside one was especially shocking - even far from cities and factories the air is very polluted."
Having completed their trip, Goska and Hervé are now discussing their findings with high school students in Europe to spread awareness about the impact of pollution on the environment. Their tangible evidence provided by the Totobobo mask filters is a hands-on teaching tool for showing students the reality of air pollution in East Asia.
# # #