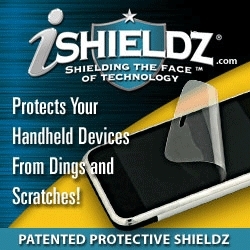 I met with several key buyers from the nations largest retailers and all were impressed with the look and feel of our new packaging and expressed they felt it would sell well in their stores
La Verne, California (PRWEB) January 31, 2009
eShields LLC., a Southern California-based company, debuted its new retail website and more importantly unveiled its new retail packaging at this year's CES2009 (Consumer Electronics Show), held earlier this month in Las Vegas. "I met with several key buyers from the nations largest retailers and all were impressed with the look and feel of our new packaging and expressed they felt it would sell well in their stores", said John Martinez, Vice President of Sales and Marketing for eShields. Martinez went on to say, "Based on the meetings I had and agreements that were made customers can expect to see our Patented iShieldz® touch screen protective kits on store shelves in mid-February and until that time they can visit our brand new website to make their purchase". According to sources a special coupon code, CES2009, can be used on the new website to get a 30% discount on all iShieldz® products.
"I really felt we hit a home run at this year's Consumer Electronics Show. In addition to the national retailers that will be picking up the iShieldz® product line agreements were reached with major international distributors that will be introducing our products abroad", says Martinez, who went on to say, "this will be a banner year for eShields and the iShieldz® product line".
All iShieldz® kits are comprised of the thinnest, most durable and most optically clear film available. All iShieldz kits are also backed by a 30-day money back guarantee and a Lifetime Replacement Warranty
"At present our most popular iShieldz® kits are for the Apple iPhone® and iPod®, Samsung® Behold, Eternity, Instinct and Omnia as well as the Blackberry® Storm, Bold and Curve", says Martinez. They are and have been called many things; skins, shields, covers, cases but at the end of the day the iShieldz® is designed to one thing and that is to protect the investment you've made in your electronic device, period!
To find out more about eShields and the patented iShieldz® Screen Protection Kits., you can visit:
http://www.iShieldz.com
John Martinez
VP, Sales and Marketing
eShields, LLC
CONTACT INFORMATION:
John Martinez
(866) 323-9330 Toll Free
(909) 596-9845 Direct
2061 Wright Ave.
Suite A5
La Verne, CA 91750
USA
# # #