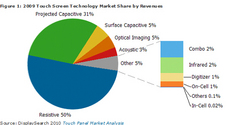 Touch screen penetration has been rapidly increasing in mobile phone, PMP/MP3, portable navigation, and other applications. Over the next several years, touch screens will undergo strong growth in large-size applications.
Austin, TX (Vocus) May 20, 2010
In its upcoming 2010 Touch Panel Market Analysis, DisplaySearch is reporting that total touch screen shipments increased 29% Y/Y in 2009, to 606 million units.
"Touch screen penetration has been rapidly increasing in mobile phone, PMP/MP3, portable navigation, and other applications. Over the next several years, touch screens will undergo strong growth in large-size applications such as all-in-one PCs, Mini-note/slate PCs, and education/training," noted Jennifer Colegrove, PhD, Director of Display Technologies at DisplaySearch.
As the previous 2009 report forecasted, projected capacitive shipments have increased substantially. Projected capacitive touch has been popularized by Apple's iPhone and iPod Touch since 2007, and with the iPad adopting it in 2010, DisplaySearch forecasts that projected capacitive will pass resistive touch technology to become the leading touch technology in 2010, measured by revenues.
The touch screen industry is extremely diverse, with many companies pursuing several different technologies. There are over a dozen touch screen technologies. Resistive is still the leading technology in terms of unit shipments, and 90 companies are manufacturing it in 2010.
However, projected capacitive technology has attracted numerous suppliers, 56 companies are supplying projected capacitive in 2010, which is nearly twice as many as last year's 27 suppliers.
Some companies supply only a single touch technology, while others supply several, such as Elo/Tyco Electronics and 3M. Some companies only produce controller ICs; others manufacture entire modules, including the touch sensor and controller IC.
Other key trends are discussed in the report:

Mobile phones are the biggest application for touch screens in terms of unit shipments. There were 376 million touch screens shipped for mobile phone applications in 2009, which is 25.6% penetration of the overall market.
In-cell touch was commercialized for the first time in May 2009, with high growth and penetration into large size expected in 2010.
On-cell projected capacitive touch was also commercialized in May 2009. However, yield rates need to be closely watched to control the cost.
The year 2010 will be the first time that projected capacitive touch technology surpasses resistive in market size.
Other new touch technologies will be commercialized and increase penetration, such as on-cell and some combination-type touch panels.
The DisplaySearch 2010 Touch Panel Market Analysis is a comprehensive analysis of the touch panel technologies and their market forecasts through 2016. This report has a detailed breakdown of 21 applications with 11 touch technology categories and 9 size categories. It also has details on touch controller IC, sensor market, area and multi-touch forecast through 2016.
DisplaySearch surveyed over 190 suppliers of touch screen modules, controller ICs, ITO film, and other components to produce the 2010 Touch Panel Market Analysis. These firms are profiled in the report, and 2009 shipments and revenues for over 100 touch screen suppliers are included. Please contact Charles Camaroto at 1.888.436.7673 or 1.516.625.2452, e-mail contact(at)displaysearch(dot)com or contact your regional DisplaySearch office in China, Japan, Korea or Taiwan for more information.
Don't forget to register for the SID DisplaySearch Business Conference, co-hosted by DisplaySearch and SID, on Monday, May 24 to gain additional insight into the touch screen market. To view the full agenda for the SID DisplaySearch Business Conference and presentation abstracts, visit http://www.sid.org/conf/sid2010
Visit DisplaySearch at Booth #143 during SID Display Week, May 23-28 in Seattle, Washington. Media interested in scheduling a briefing during the show or in need of market data for their SID articles should contact Stacey Voorhees-Harmon at stacey(at)savvypublicrelations(dot)net or call 925-336-9592.
About DisplaySearch
Since 1996, DisplaySearch has been recognized as a leading global market research and consulting firm specializing in the $770 billion display supply chain, as well as the emerging photovoltaic/solar cell industries. DisplaySearch provides trend information, forecasts and analyses developed by a global team of experienced analysts with extensive industry knowledge and resources. In collaboration with the NPD Group, its parent company, DisplaySearch uniquely offers a true end-to-end view of the display supply chain from materials and components to shipments of electronic devices with displays to sales of major consumer and commercial channels. For more information on DisplaySearch analysts, reports and industry events, visit us at http://www.displaysearch.com. Read our blog at http://www.displaysearchblog.com and follow us on Twitter at @DisplaySearch.
About The NPD Group, Inc.
The NPD Group is the leading provider of reliable and comprehensive consumer and retail information for a wide range of industries. Today, more than 1,700 manufacturers, retailers, and service companies rely on NPD to help them drive critical business decisions at the global, national, and local market levels. NPD helps our clients to identify new business opportunities and guide product development, marketing, sales, merchandising, and other functions. Information is available for the following industry sectors: automotive, beauty, commercial technology, consumer technology, entertainment, fashion, food and beverage, foodservice, home, office supplies, software, sports, toys, and wireless. For more information, contact us or visit http://www.npd.com and http://www.npdgroupblog.com . Follow us on Twitter at @npdtech and @npdgroup.
###