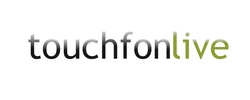 We are thrilled to add another valuable service that will benefit our customers both functionally and economically
Draper, UT (PRWEB) October 28, 2009
Touchfon International, a leading provider of communication technology solutions for consumers and small business owners, is pleased to announce the addition of TouchfonLive VoIP Phone Service to its comprehensive suite of communication products.
TouchfonLive VoIP Phone Service is available to residential and small business users, as well users in many foreign countries. TouchfonLive uses customer's high-speed internet connection to provide clear, crisp and cost saving calling to anyone, anywhere. Touchfonlive, which includes features such as Caller ID, Call Waiting, Call Forwarding, and more allows customers to keep their current number and phone equipment, while cutting their monthly costs in half. TouchfonLive includes unlimited long distance to the United States, Canada and Puerto Rico. International calling plans are available starting at just $.02/minute to help alleviate long distance costs associated with most phone services.
"We are thrilled to add another valuable service that will benefit our customers both functionally and economically," said Rodney Hyde, President and CEO of Touchfon International. "Our commitment and goal is to improve our clients' lives through communication. We know that the cost savings and quality of service that we are offering will benefit many individuals, families and businesses."
With the release of TouchfonLive VoIP Phone Service, Touchfon is offering the Standard Residential Phone package at special introductory rate of just $15.99 per month. There are no contracts or commitments. Customers who join before November 30, 2009 qualify for the introductory price, which is guaranteed for the life of the account.
Join TouchfonLive by visiting our website, or contact us at 800-866-8088.
About Touchfon International, Inc:
Touchfon International is a leading provider of communication technology solutions. Touchfon offers a comprehensive suite of solutions including: toll-free, local, and international numbers; broadcast messaging systems; custom messaging solutions; VoIP phone service for residential and small business customers, and online video and content delivery systems. Established in 1989, Touchfon is a privately held company headquartered in Draper, Utah.
###