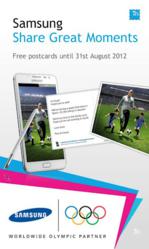 A real postcard adds a personal touch and can really make someone's day
London, United Kingdom (PRWEB) August 01, 2012
Samsung today announced that it has partnered with Touchnote to extend the London celebrations to everywhere in the world by inviting everyone to send real, printed postcards for free to commemorate their favorite moments this summer.
The campaign will run to the end of the summer on Friday August 31st, and allows consumers to send free postcards via their smartphones or online with Touchnote, the award-winning mobile postcards start-up.
Whether people are on holiday, travelling to far-flung corners of the world or visiting London this month, they will be able to send their photos as real, printed postcards to friends and family, absolutely anywhere in the world for free during the campaign.
People can share their photos as real postcards with family and friends through Touchnote's Android app, the campaign website and the Facebook app. Additionally, people using the Samsung GALAXY Note and S-pen will be able to include hand-writing on the free postcards.
Raam Thakrar, co-founder of Touchnote added: "In today's world of sharing photos digitally on Facebook and email, it is easy to forget how special it is to receive something in the mail. A real postcard adds a personal touch and can really make someone's day. Touchnote is based on the philosophy that certain moments should live forever and this summer will undoubtedly be filled with incredible moments. We're delighted that Samsung is giving everyone the opportunity to make their memories permanent, wherever they are, simply by getting online or using their smartphone. We've also worked hard to optimize the Touchnote experience for the Samsung GALAXY Note so users can experience more such as hand-writing in various colors and different pen functions to fully express their emotions."
Through to the end 31st August, Samsung will be giving away hundreds of thousands of postcards through:

About Touchnote Ltd.
Touchnote has been revolutionizing the humble postcard since 2008. In May 2009, Touchnote brought their expertise to the world of mobile with an app that enables you to take a photo and send it as a physical postcard from anywhere in the world with a message of your choice.
Now the number one mobile postcard service, Touchnote has had over 2 million downloads and delivered postcards to over 200 countries with local operations based in US, UK, Germany and Australia.
The standard Touchnote app is available to download on Android (phone and tablets), iOS (iPhone and iPad). Postcards normally costs $1.49, €1,49 or £1.49 each.
Touchnote is privately funded, and based in London. For more information, visit http://www.touchnote.com.
About Samsung Electronics Co., Ltd.
Samsung Electronics Co., Ltd. is a global leader in semiconductor, telecommunication, digital media and digital convergence technologies with 2011 consolidated sales of US$143.1 billion.
Employing approximately 222,000 people in 205 offices across 71 countries, the company operates two separate organizations to coordinate its nine independent business units: Digital Media & Communications, comprising Visual Display, Mobile Communications, Telecommunication Systems, Digital Appliances, IT Solutions, and Digital Imaging; and Device Solutions, consisting of Memory, System LSI and LCD.
Recognized for its industry-leading performance across a range of economic, environmental and social criteria, Samsung Electronics was named the world's most sustainable technology company in the 2011 Dow Jones Sustainability Index. For more information, please visit http://www.samsung.com.