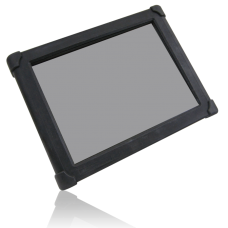 The new line of displays addresses our customers' need for a fully-ruggedized touchscreen display for mobile applications that performs well in brightly lit environments
Austin, TX (PRWEB) January 18, 2012
iKey, the world leader in rugged computer peripherals, is proud to introduce a new line of high-bright touchscreen displays with the IK-FPMT-12-1000 and IK-FPMT-15-1500. Designed with LED backlighting, powder coated steel housings and sleek rubber protective bezels, the 12.1-inch IK-FPMT-12-1000 and 15-inch IK-FPMT-15-1500 offer users an ultra-rugged, daylight-readable, high-resolution display engineered for in-vehicle use.
The new high-bright line will be featured and available for demonstrations at Distributech 2012, January 24-26 in San Antonio, TX at iKey's booth #4356, and at Fleet Forum 2012, Feb. 8-10 in Bonita Springs, FL at iKey's booth.
"The new line of displays addresses our customers' need for a fully-ruggedized touchscreen display for mobile applications that performs well in brightly lit environments," said iKey's controller Jim Mayo. "Paired with our ultra thin SB-87-TP, the IK-FPMT-12-1000 and IK-FPMT-15-1500 are a great start to a three piece in vehicle solution."
The IK-FPMT-12-1000 features 1000-nits of brightness and includes a capacitive touchscreen, while the IK-FPMT-15-1500 offers 1500 nits of brightness with a resistive touchscreen. Both touchscreen displays utilize a custom OSD that makes brightness adjustments as simple as pressing a button. Featuring 10 levels of backlighting, the displays can be easily adjusted to ambient light requirements. A NEMA 4X sealed front panel and conformal coating of internal components provides significant protection from moisture and vibration.
The IK-FPMT-12-1000 and IK-FPMT-15-1500 are ideal for mobile, public safety, transportation, and utilities applications. For more information on this product, visit iKey online at http://www.iKey.com.
About iKey, LP.: iKey designs and manufactures rugged, sealed keyboards, displays, pointing devices for industrial, public safety, medical and military applications. A pioneer in its industry since 1989, iKey is known as an innovator of industrial computer peripherals. For more information, visit http://www.ikey.com.
###