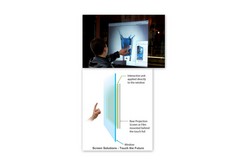 The future of digital signage is Interactivity
Roseville, CA (PRWEB) February 18, 2010
Watch any major news station or TV show and see touch screens being used. They are being used on everything, from weather desk displays to holographic touch screens on today's hottest action and drama shows. This isn't Hollywood special effects--this is state of the art touch screen technology that is now available to anyone!
The world market for touch screens is growing daily by leaps and bounds and is evident anytime you turn on your TV or go to a high-end trade show. Drawing attention to a business or display is now easier than ever with projection films and touch screens. Businesses such as real estate, retail, bars, nightclubs, restaurants, marketing, advertising to name just a few can turn their standard windows or displays into information gathering and educational displays that will empower consumers and convert them from prospects to clients. SEE VIDEO HERE
The ViP Interactive foil from Screen Solutions has no external components, so the installation is completely safe and vandal proof. The transparent lightweight touch screen foil can be applied directly to any existing window or a glass sheet with a rear projection screen or LCD TV positioned from behind. This creates an interactive touch surface through any glass or acrylic. The ViP Interactive touch screen from Screen Solutions can be mounted to the glass using either a permanent or a removable method.
When engaging the shopper of today realize that experience is a key component of most any purchase, and the need to rise above the competition is ever increasing when more than 3,000 ad impression on average are being presented to consumers each and every day.
To turn an average consumer into a client you must engage them with a medium worthy of their attention -- prospective real estate clients, for example, can browse current listings in their zip code or city, browse by number of bedrooms, bathrooms or any search criteria available. Once a suitable or interesting property has captured their attention they can request more information, have the information emailed and or request a call or a walk through right from the window.
A restaurant would use this technology to gain the attention of new or existing customers, encouraging them to browse through the menu, see current specials, sign up for email alerts with exclusive offers, etc. right from the window.
Mall or strip mall retail establishments would promote the current specials, new products, exclusive window opportunities only found on the storefront glass that not only generates attention but also foot traffic to the store.
Screen Solutions Int. (SSI) will walk prospective clients through the process of purchasing your interactive touch screen and will assist in determining the appropriate screen, projector, LCD TV, etc. for each application. Providing a true digital signage solution requires looking at every project as a whole and not just from one aspect; our technical and design teams are available to answer questions and help put together all the pieces needed for a successful digital signage deployment that is sure to attract, impress, and convert.
Interactive touchscreens can be combined with any of the Screen Solutions Rear Projection Film or Rigid Screens to create interactive displays and retail intrigue. Screen Solutions Int. has 3 versions of their projection films: the Accent screen which is a white and super bright, the Definition screen which is dark gray and has high contrast, and the Intrigue screen which is clear or transparent and has an astounding holographic appearance. Our line of Rigid Rear Projection screens are considered to be the best in the industry by many leading A/V Integrators around the world.
Projection doesn't have to be difficult. SSI proves that by bringing technology to the projection screen market with a range of products accommodating even the largest 116" Interactive Touch Foil.
###