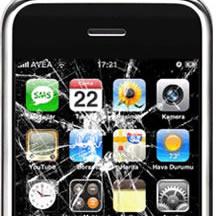 CellularDR.com now repairs broken or damaged cell phone touch screens.
Glendale, CA (Vocus/PRWEB) December 07, 2010
CellularDR.com officially announces their cell phone touch screen digitizer repair service, due to the overwhelming need for resources aimed at fixing them. New cell phones such as the Apple iPhone, Android models including HTC, Motorola and now even Blackberry phones offer extensive touch screen features which allow direct input into the devices. As more cell phones come onto the market, they are making use of touchscreen features partially or sometimes exclusively.
The cell phone touch screen repair service offered by CellularDR.com is dedicated to a process that identifies whether or not a touch screen digitizer needs to be replaced or fixed. In order to determine this, the company suggests that a diagnostic is performed on the phone. A diagnostic will pin point what exactly is wrong with the cellphone. Their flat rate fee of $25.00 includes the evaluation and labor for a cell phone with an unresponsive top screen, cracked glass window, broken touch screen or for a digitizer that is not sensitive enough. Once the diagnostic is completed, the company tries to fix the cellphone without replacement parts. If CellularDR.com can fix the problem, there are no extra costs incurred.
For those customers that need replacement parts, a CellularDR.com technician will contact the customer, explain the situation and let them know what is needed. It is then up to the customer if they would like to proceed with fixing the cellphone. If they do, they can simply purchase the replacement cell phone part on CellularDR.com and the technician will replace it and send it back to the owner.
The complete cell phone digitizer repair service has been streamlined to make it easier for the customer. With CellularDR.com the cell phone owner does not have to worry about the cost of the repair because every step requires conformation from the owner. The flat rate diagnostic and repair fee is both convenient and cost effective for consumers. Throughout the years CellularDR.com has been in business, this process has helped consumers build confidence in their company.
Replacing a part on a cell phone such as a touch screen glass is often times less expensive and worth the investment compared to purchasing a new cellular phone. All services offered by CellularDR.com are performed by factory trained cell phone technicians and backed with years of experience in the cell phone repair industry. For a complete list of cell phone repair services or cell phone parts, please visit http://www.cellulardr.com.
About CellularDR:
CellularDR.com is the trusted leader in providing cell phone repair, software upgrade, cellphone contact data transfer, cell phone repair parts, accessories and other cellular phone services both online at http://www.cellulardr.com and at their offices centrally located in Glendale, California serving the surrounding cities: Los Angeles, Pasadena, Burbank, La Canada, Studio City, Sherman Oaks, Santa Monica, Hollywood and North Hollywood. Services are provided on a variety of cellular phone makes and models including major brands such as Apple iPhone, Rim Blackberry, HTC, Kyocera, LG, Motorola, Nokia, Palm, Pantech, Samsung, Sidekick and Sony Ericsson cell phones.
Contact:
CellularDR
National Cell Phone Repair Hotline
Toll Free (877) 288-4488
Facebook
Twitter
http://www.cellulardr.com
# # #