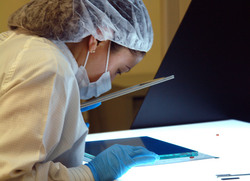 We are experiencing explosive growth in the touch screen market
Austin, TX (Vocus) October 6, 2010
With world-wide touch screen demand on the rise, touch screen manufacturer and technology developer, Touch International announced today the expansion of its sales and production capabilities at its Austin, Texas headquarters location.
"We are experiencing explosive growth in the touch screen market," explains Michael Woolstrum, Touch International co-founder and CEO. "The release of Windows® 7 provided a software platform for multi-touch technology which is fueling a lot of the growth in the touch industry. Touch International has strategically expanded its sales and production capabilities to ensure it is best positioned to serve its customers and capitalize on the touch market growth in the years to come."
With strong demand in the military, medical and aerospace segments, Touch International has added three vertical market sales teams to serve these distinct industries. Consisting of sales managers, sales engineers and customer service representatives, each team is dedicated to serving its respective market segment from the initial prototype design through final production.
To support the growing touch screen market, Touch International's production schedule has been extended to 7-days a week with three alternating manufacturing shifts, building custom resistive and projected capacitive touch screens.
"By adding dedicated sales teams to serve our vertical markets and producing the products that our customers need, when they need them, we are able to focus our energies and maximize our business as the market changes and grows," explains Woolstrum.
About Touch International
Global touch screen manufacturer, Touch International, was founded in 2002 by Michael Woolstrum and long-time veteran, Gary L. Barrett. Headquartered in Austin, Texas, Touch International is a world leader in touch screen and EMI filter technology. The company, with its partner DMC, Co. Ltd. in Osaka, Japan, operates seven manufacturing facilities worldwide with 1,200 employees. Touch International's China factories manufacture Apple iPhone-type projected capacitive touch screens, resistive sensors and glass filter products used in touch screens, EMI, anti-reflective or anti-vandal filters.
###