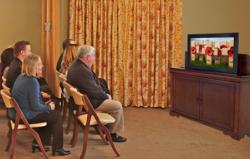 Exton, Pennsylvania (PRWEB) July 31, 2012
The M. David DeMarco Funeral Home has added two new Touchstone Home Products TV lift cabinets, to enhance the accommodations of their Monroe Township, New Jersey facility. Founded in 1979 by Michael DeMarco and his son M. David DeMarco, the DeMarco Funeral Home was the first funeral home in Monroe Township which serviced Middlesex County and surrounding areas.
The DeMarco Funeral Home has utilized the unique TV Lift Cabinets as an alternative to mounting the funeral home's flat screen televisions on their walls. The TV lift cabinets allow the DeMarco Funeral Home to offer a convenient method for attendees to watch a video memorial tribute during funeral ceremonies and allow the funeral director to quickly lower the television away inside the cabinet for a discreet and intimate setting when not in use.
Touchstones TV lift cabinets are designed for use with flat screen televisions which can be hidden away inside the cabinet by remote control when not in use. The new TV lift cabinets were custom finished and fit with rolling casters for easy mobility and transport of the display throughout the facility.
Although many aspects of the funeral home business have not required many technological changes over the years, funeral home directors are keeping up with the times by updating the facilities and adding new products and services, like Touchstone Home Products TV lift cabinets to bring in new business and keep customers happy.
About M. David DeMarco Funeral Home
The DeMarco family began serving the Monroe Township and Middlesex County area in 1979, after Michael DeMarco, with the help of his son M. David, built the first funeral home in Monroe Township. Thomas J. DeMarco joined his father as the second generation of funeral service providers in the DeMarco family. They, together with their families, are proud to have celebrated their 30th anniversary of service to Monroe Township and the surrounding area in 2009. There family truly appreciates the trust placed in them by the families we serve.
About Touchstone:
Touchstone is a leader and pioneer in the design and manufacturing of theater lift cabinets. Founded in 2005, Touchstone offers cabinets in contemporary, traditional, and transitional styles to fit seamlessly in almost any home. Bedroom-size TV lift cabinets accommodate flat panel televisions up to 45 inches, full-size cabinets will fit flat panel TV's up to 55 inches and mid-size cabinets up to 46 inches. Touchstone TV lift cabinets maximize space, enhance in-home entertainment experiences and provide added safety and security to any room in the house.