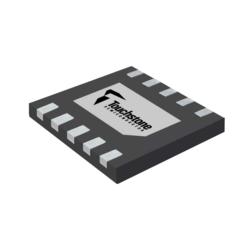 "This is not just recognition of the TS12011/2, but it is confirmation of Touchstone's growing status as a force to be reckoned with in the analog IC business."
--Brett Fox, CEO, Touchstone Semiconductor
MILPITAS, Calif. (PRWEB) November 29, 2012
Touchstone Semiconductor, a developer of high-performance, cost-effective, and low power analog integrated circuit solutions, today announced that EDN has named its TS12011 and TS12012 op amp/comparator/reference combo ICs as one of the "100 Hot Products of 2012." The 2012 EDN Hot 100 highlights the electronics industry's most significant products of the year based on innovation, significance, usefulness and popularity.
Both the TS12011 and TS12012 combine a 0.6V reference, 20µs analog comparator and unity-gain stable operational amplifier in a single package. They use only 1.6µA Icc (max) and offer a 10 times reduction in power consumption and operation down to 0.8V. This enables always-on, single-cell operation that was not previously possible. The TS12011 has a push-pull output, and the TS12012 has an open-drain output.
"We are thrilled that EDN's readers have selected Touchstone's TS12011 and TS12012 combo ICs to be included on their list of Hot 100 products," said Brett Fox, CEO, Touchstone Semiconductor. "This is not just recognition of the TS12011/2, but it is confirmation of Touchstone's growing status as a force to be reckoned with in the analog IC business."
"It's always a fun and enlightening challenge for the EDN editors to select the year's Hot 100 products, which has been an annual tradition at EDN since 1993. This year's selection not only reflects some technology trends that have been in place for a while, but also highlights some new trends that are just emerging, as well as a unique product or two that is in a class of its own," said Rich Pell, executive and chief technical editor, EDN.
The complete list of EDN's Hot 100 products will be published in the December 14, 2012, issue of EDN Magazine.
About Touchstone Semiconductor
Touchstone Semiconductor, Inc., creates high-performance analog integrated circuit solutions that solve critical problems for electronics companies. Touchstone's second-source products are pin-compatible, specification identical solutions, offering customers a long-awaited alternative source for hard to get sole-sourced products. Touchstone's proprietary products provide unique combinations of features and performance that cannot be found from any other supplier. Founded in 2010, Touchstone is headquartered in Milpitas, Calif. Its investors include Opus Capital and Khosla Ventures. Follow the company at: Twitter:@touchstonesemi, Facebook: Touchstone Semiconductor and YouTube: The Touchstone Semiconductor Channel.
About UBM Tech
UBM Tech is a global media business that provides information, events, training, data services, and marketing solutions for the technology industry. Its media brands and information services inform and inspire decision makers across the entire technology market— engineers and design professionals, software and game developers, solutions providers and integrators, networking and communications executives, and business technology professionals. UBM Tech's industry-leading media brands include EE Times, Interop, Black Hat, InformationWeek, Game Developer Conference, CRN, and DesignCon. The company's information products include research, education, training, and data services that accelerate decision making for technology buyers. UBM Tech also offers a full range of marketing services based on its content and technology market expertise, including custom events, content marketing solutions, community development and demand generation programs. UBM Tech is a part of UBM (UBM.L), a global provider of media and information services with a market capitalization of more than $2.5 billion.
###
™NanoWatt Analog and the Touchstone Semiconductor logo are registered trademarks of Touchstone Semiconductor, Inc. All other trademarks are the property of their respective owners.