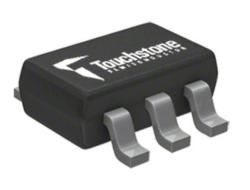 Touchstone announced the introduction of the industry's only 0.8V to 5.5V, rail-to-rail single op amps in SC70 packaging.
Milpitas, CA (PRWEB) April 08, 2013
Touchstone Semiconductor, a leading developer of high-performance, low-power analog integrated circuit solutions, today announced that it has added two new, micropower operational amplifiers (op amps) to its "NanoWatt Analog™" high-performance analog integrated circuits portfolio: the TS1003 and TS1005, both available in SC70-5 packaging and ready to ship from Digi-Key, Touchstone Semiconductor's authorized distributor.
The TS1003 and the TS1005 are priced at $0.35 in 1K-piece quantities. The TS1003 draws 0.6µA and exhibits a 4-kHz gain-bandwidth product (GBWP). The TS1005--the industry's lowest-power 20kHz gain–bandwidth product op amp--draws 1.3µA. Both the TS1003 and the TS1005 exhibit a typical input bias current of 2pA and rail-to-rail input/output stages.
The TS1003 and the TS1005 op amps are optimized for ultra-long-life battery-powered applications, including micropower active filters, wireless remote sensors, battery and powerline current sensors, portable gas monitors and handheld/portable point-of-sale (POS) terminals.
Key Specifications

Single-Supply Operation: 0.8V to 5.5V
Low Supply Current:
TS1003: 0.6μA (typ); TS1005: 1.3μA (typ)

Low Input Bias Current: 2pA
Gain-Bandwidth Product:
TS1003: 4kHz; TS1005: 20kHz

Rail-to-Rail Input and Output Stages
Value-priced at $0.35 each in 1K-piece quantities
The TS1003 and the TS1005 op amps are fully specified over the -40°C to +85°C temperature range.
For more information on Touchstone's op amps or to download a data sheet visit the company website. Free TS1003 and TS1005 samples and demo board are available upon request.
About Touchstone
Touchstone Semiconductor, Inc., creates high-performance analog integrated circuit solutions that solve critical problems for electronics companies. Touchstone's second-source products are pin-compatible, specification identical solutions, offering customers a long-awaited alternative source for hard to get sole-sourced products. Touchstone's proprietary products provide unique combinations of features and performance that cannot be found from any other supplier. Founded in 2010, Touchstone is headquartered in Milpitas, Calif. Its investors include Opus Capital and Khosla Ventures. Follow the company on Facebook, Google+, LinkedIn, Twitter and YouTube.