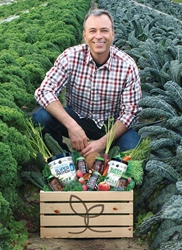 We believe it's not too much to ask for your nutritional supplements to meet the same high standard you want for your food: organic, clean and natural.
Raleigh, NC (PRWEB) April 05, 2017
The leading publication of the direct sales industry, Direct Selling News magazine, has recognized the growing influence of organic nutrition with a spotlight on organic supplement provider Touchstone Essentials in its April 2017 issue.
Sales in the organic sector are booming at a double digit rate each year, with organic representing the fastest growth in the US food industry. According to the Organic Trade Association, 51% of US families are buying more organic than a year ago. In 2015, sales of organic products topped $43 billion in the US.
Despite such rising demand for clean foods, consumers had few choices when it came to clean nutritional supplements. Touchstone Essentials is leading the way with premium, organic nutritionals sourced from whole foods.
Touchstone Essentials was founded in 2012 by North Carolina native Eddie Stone, who discovered that many of the same problems found in Big Food—pesticides, ultra-processed ingredients and toxic additives—were also found in most "health" supplements. The realization that most supplements were anything but healthy prompted a new path forward rooted in plant-based nutrition.
"We believe it's not too much to ask for your nutritional supplements to meet the same high standard you want for your food: organic, clean and natural," said Eddie Stone, Founder & CEO of Touchstone Essentials. "Recognition of the growing organic movement by Direct Selling News magazine provides an important platform to further our goal of making organic, plant-based nutrition accessible for all."
Touchstone Essentials' premium, plant-based organic supplements are available online at TheGoodInside.com and via the global reach of the direct sales channel.
"With double-digit annual growth, organic is in high demand with consumers, but it was (and is) underrepresented in the supplement sector. The direct sales channel is the perfect place to connect with a community that wants, and deserves, better," said Stone.
Wellness products represent the largest segment of US direct sales. According to the Direct Selling Association, the direct sales industry has total annual sales of $178.5 billion globally (2015) with an estimated $36 billion in the US market.
A focal point of the Direct Selling News magazine spotlight was the organic ready-to-mix superfood powders offered by Touchstone Essentials. Super Green Juice and Organic Super Protein provide concentrated nutrition sourced from certified organic superfoods that taste delicious, and come conveniently packaged in canisters for easy serving.
With a full-length feature in the April 2017 edition of the Direct Selling News magazine, the renowned publication showcases the thriving organic food movement and how Touchstone Essentials is answering the call from consumers for clean, natural ingredients.
An e-print of the Direct Selling News magazine article is available for viewing online.
About Touchstone Essentials
Touchstone Essentials was born with a commitment to clean ingredients, organic practices and sustainability. Touchstone supplements read like a recipe for good health, filled with organic fruits and veggies, and never any toxic additives. Designed to fit around a busy lifestyle, each nutritional supplement is carefully crafted to provide plant-based nutrition easily and effectively. Touchstone believes that when we fuel our bodies with the right ingredients, we fuel our potential. Everyone deserves the good inside. Learn more about how to power your potential at TheGoodInside.com