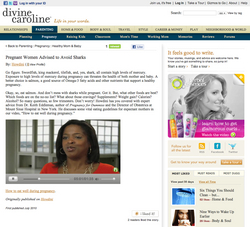 Howdini's high quality videos are a fantastic resource for our vibrant community of women.
New York, NY (PRWEB) September 14, 2010
TouchStorm, a leader in online digital video, and DivineCaroline, an online community for women, today announced a licensing deal to distribute TouchStorm's Howdini videos as editorial content on DivineCaroline.
The deal includes Howdini's popular how-to and lifestyle videos in DivineCaroline's library for women on topics such as Relationships, Parenting, Home and Food, Body and Soul, Travel, Style, Career and Money, Play, Neighborhood and World. Through its profile page on the site, Howdini will continually increase its presence in the DivineCaroline community through weekly submissions of relevant subject matter.
"Howdini's high quality videos are a fantastic resource for our vibrant community of women," said Kate Thorp, CEO Real Girls Media Network. "We are excited to run these idea- and answer-rich videos that Howdini has created and led with top tier on-air talent."
Howdini is known for its TV-quality productions and its journalistic style featuring advice from top experts. TouchStorm distributes Howdini videos to a variety of sites including top tier destinations (AOL, iVillage), vertical properties (DivineCaroline, DisneyFamily), video sharing sites (YouTube), digital TV (TiVo, Hulu) and targeted blogs (Glam Media). Licensing premium videos to 70-plus publishers, the TouchStorm Editorial Network is the Internet's largest syndicator of editorial video.
"Licensing Howdini videos to DivineCaroline.com was a no-brainer for us," said Alison Provost, CEO of TouchStorm. "Our shared focus on women and their everyday needs makes this a perfect relationship. They have built an audience of fully engaged women who are reading and writing about topics they care deeply about. It's exactly the kind of site we are looking for to distribute Howdini videos."
Howdini videos are popular because they offer high caliber expert advice on the topics most important to women. The site's stable of celebrity chefs, authors and well-known professionals includes: David Bach, financial advisor and bestselling author; Barbara Corcoran, real estate contributor, The Today Show; fitness expert and author Dr. Pamela Peeke; Gerri Willis, author and CNN financial correspondent; and successful NYC-restaurateur and celebrity chef Terrance Brennan among others.
###