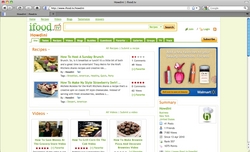 We are on the hunt for sites with engaged audiences to join the TouchStorm Editorial Network and iFood.tv really delivers.
New York, NY (PRWEB) July 28, 2010
TouchStorm, a leader in online digital video, and iFood.tv, a leading community-driven food portal, today announced that iFood.tv joined the TouchStorm Editorial Network. This network of 50+ publishers license TouchStorm premium videos to run as content — not advertising — on their sites, making the TouchStorm Editorial Network the largest syndicator of editorial video on the Internet.
iFood.tv is the latest site to license TouchStorm's popular Howdini videos. The partnership will feature Howdini food videos on its home page in rotation with other partners. The Howdini videos will be listed in iFood.tv's Recipe and Video sections of the site. Additionally, iFood.tv will include Howdini video newsletters to its subscribers with links back to Howdini.com.
Howdini is known for its TV-quality productions and its journalistic style featuring top expert advice. TouchStorm distributes Howdini videos through its TouchStorm Editorial Network to a variety of sites across the web. These sites include top tier destinations (AOL, iVillage), vertical-oriented properties (iFood.tv, DisneyFamily), video sharing sites (YouTube), digital TV (TiVo, Hulu) and targeted blogs (Glam Media).
"We welcome iFood.tv to the TouchStorm Editorial Network," said Alison Provost, CEO of TouchStorm. "We're excited about the partnership because iFood.tv is such a well-known destination for food lovers. We are on the hunt for sites with engaged audiences to join the TouchStorm Editorial Network and iFood.tv really delivers."
Howdini videos are popular online because of the caliber of experts that they provide to help hardcore foodies or moms on the run. Their stable of chefs, authors and food celebs includes: Marc Bauer, Master Chef at the French Culinary Institute; Food Network celebrity Adrien Sharp; Jacques Torres, CEO of Jacques Torres Chocolate; Cookbook Author and Pastry Chef Lauren Chattman; and successful NYC-restaurateur and Celebrity Chef Terrance Brennan among others.
About iFood.tv
iFood.tv is a community-driven food portal, which empowers people to connect, collaborate, share, and consume food related information in a variety of media formats. Users can enjoy and share videos, recipes and blogs on topics including cooking shows, restaurant reviews, healthy living, opinion and thoughts, tips and techniques, news and events, entertainment and others.
The site was started by a group of Bay Area foodies who got tired of wasting time on the Internet trying to find the right recipe.
About PowerPact Holdings
PowerPact Holdings is a digital media and marketing services company that is behavior-oriented, technology-supported and results-driven for the digital world. The company owns TouchStorm, a leader in online editorial video, the TouchStorm Editorial Networks, a network of top-tier publishers and PowerPact, a consumer promotion and digital marketing agency.
PPH also creates its own suite of proprietary digital tools including Search Revelator™ (mines for popular search interests), VOOTSM (Video Optimization and Online Tracker for YouTube), Howdini® (TV-quality online videos featuring a journalistic style and top experts), and M-able™ (a mobile shopper marketing system).
PPH is an independent and employee-owned company. Its footprint reaches 17 U.S. cities with offices in New York, Dallas and Richmond, Va. Clients include General Mills, Sony, Procter & Gamble, Kraft, Fuze Beverage, Land O'Lakes, Travelocity, Mott's, Capital One, Autodesk, American Diabetes Association and Susan G. Komen for the Cure.
###