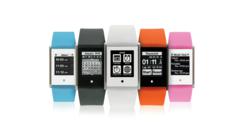 "[The watch] looks like it's smart enough - you never have to charge it," said Mashable.
Los Angeles, CA (PRWEB) September 07, 2012
On August 6, 2012 Phosphor Watches launched its newest digital watch, Touch Time, on Kickstarter. The campaign immediately took off like wildfire. The initial goal, set at $50,000, has not only been reached but has more than quadrupled within one month of the Kickstarter launch date. With 1,685 backers, Touch Time has raised a little over $220,000 and still has 22 days left to go in its funding campaign. Because of the watch's success, Phosphor is getting ready to offer new exciting Kickstarter rewards to backers and is even adding new functions to the watch.
The inspiration behind the Touch TimeTM watch comes from today's mobile phones and other electronic devices in which users have the ability to easily change appearances, set alarms, and access numerous other functions with a simple touch. Touch TimeTM offers its users the ability to select from seven different time displays with just one swipe of the finger.
ABC News called Touch Time "This week's Kickstarter gem," and Mashable reported that the watch "looks like it's smart enough - you never have to charge it." Because of Touch Time's success, founder Donald Brewer has offered new Kickstarter rewards for different levels of backers and is constantly in the process of coming up with more new and exciting rewards. Not only does Phosphor appreciate all the support, but they are actively listening to feedback from their Kickstarter backers.
One of the most requested updates is the addition of a countdown timer. Ask, and you shall receive. "Our design director, Stefan Andren, has been working with the software development team and we are excited to announce that we're adding the countdown timer function," says Brewer. "This new function will not only allow for a countdown mode, but will also allow the user to pause or stop the countdown as needed."
To learn more or to support Phosphor's team and the project on its Kickstarter page visit http://bit.ly/TouchTimeKS.
About Touch Time
Phosphor is a new American watch brand focused on the relentless pursuit of watches that integrate new technologies combined with compelling design. The Phosphor brand is owned by Art Technology Limited, which has offices in both United States and Hong Kong. More information can be found at http://www.phosphorwatches.com. Stay up to date with Phosphor on Facebook at http://www.facebook.com/PhosphorWatches and follow Phosphor on Twitter @PhosphorWatch.