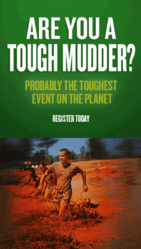 ...the Toughest Event on the Planet
Washington, DC (PRWEB) August 07, 2012
On August 25, 2012, Project Fitness – Washington DC's premier personal training group – will host DC's first Tough Mudder Training Camp, a unique fitness fundraising event challenging area fitness enthusiasts gearing up for the September adventure race and for those daring to test their fitness levels for a good cause. Proceeds from the training camp benefit The Kyle Matthew Knott Charitable Memorial Fund (Kyle's Fund), an education grant dedicated to helping local high school athletes pursuing their college dreams.
Designed by British Special Forces, Tough Mudder is often called the toughest event on the planet" consisting of a 10-12 mile run featuring obstacles with names like Fire Walker, Devils Beard and Electric Eel. Finishing the course pushes the limits on strength, stamina, and mental grit and Chickaro Martin of Project Fitness knows exactly what it takes to train for such a challenge. Martin is not only a Tough Mudder himself, but is also a certified personal trainer, a professional body builder and an accomplished athlete.
Teaming with Kyle's Fund, Martin is hosting DC's one-and-only Tough Mudder Training Camp on August 25, 2012 at 9:00 a.m. in the NoMa neighborhood of Northeast DC. The Training Camp will take place across many of DC's historic monuments, featuring challenging workout tests to ensure a strong finish in the upcoming Tough Mudder mid-Atlantic race held September 8-9, 2012 in Frederick, Maryland. The Training Camp is a unique opportunity to train with fellow athletes competing in the race while supporting a local cause.
Following the Training Camp, Project Fitness will join Kyle's Fund for a fundraising barbecue in the NoMa neighborhood in Northeast Washington, DC. Kyle's Fund, established in December 2011, is dedicated to helping local high school athletes pursue their college dreams while inspiring the generosity and kindness exhibited by Kyle Matthew Knott. This spring, Kyle's Fund awarded two scholarships to a Frederick High School baseball and softball player. Complete scholarship information can be found on its website. The barbecue event is open to the public and will be accepting donations to Kyle's Fund. Kyle's Fund apparel will also be available for sale with proceeds benefiting the fund.
Training camp will start promptly at 9:00 a.m. on August 25, 2012, with registration preceding at 8:30 a.m. The barbeque fundraiser will follow the training event at 11:30 a.m. lasting until 2:30 p.m. Stay up-to-date on details for the full-day event at the Project Fitness website - the location will be finalized soon.
The partnership between Project Fitness and Kyle's Fund brings together local communities sharing the value of wellness, education, and camaraderie. Project Fitness encourages and supports healthy lifestyles in the NoMa, H Street and Capitol Hill communities through mobile, one-on-one fitness training, corporate consulting, and personal coaching. Connecting businesses and organizations to local resources, Project Fitness encourages healthy and sustainable living through local events, social meetings and other diverse wellness activities.
View full details here:
http://www.p-fit.com/services/tough-mudder-training-camp/