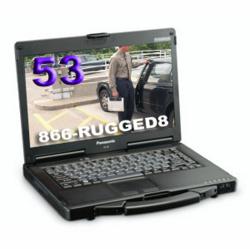 Panasonic does a superb job of continuously refreshing its computer line to include the latest advancements in technology.
Chandler, AZ (PRWEB) June 28, 2011
Group Mobile, well known for carrying the top brands in rugged laptops, rugged tablet PCs, rugged PDAs, and rugged handheld computers has added the newest semi-rugged Panasonic Toughbook to its product offerings. The Toughbook 53 features a 14" widescreen, HD LED display, the latest Intel® Core™ i5 and i3 processors, and an oversized, multi-touch touchpad. This impressive 5.6-pound semi-rugged laptop combines desktop-class performance with rugged reliability.
The Toughbook 53 is a semi-rugged notebook with a magnesium alloy chassis, which is much more durable than plastic or aluminum and provides extra protection from bumps and bangs. The semi-rugged classification refers to the fact that the Panasonic Toughbook 53 is not sealed against the outdoor elements. It meets military standard MIL-STD-810G for altitude (up to 15,000 ft), humidity, and dust. It can also handle being dropped on six sides from 30 inches. It has a spill-resistant keyboard and a built-in handle. The Toughbook 53's shock-mounted flex-connect hard disk drive with quick release can handle bumps and vibrations to keep your important data safe. An optional hard drive heater is available for working in cooler environments. Optional solid state drives are also available for even more protection from accidental drops.
"The next-generation Toughbook 53 was designed with a substantial amount of customer input and is the result of Panasonic's goal to offer the most functional and reliable devices for today's mobile workforce," said Kyp Walls, Director of Product Management, Panasonic Solutions Company. "The Toughbook 53 is ideal for mobile professionals in industries such as insurance, construction and field service, where a standard commercial-grade laptop does not provide sufficient durability. Panasonic has added enhanced features to this new device providing added flexibility for professionals who spend a significant amount of time working from the road."
The 14-inch screen has a 1,366 x 768 resolution (720p) and is sunlight viewable so you can use the Toughbook 53 outdoors. An optional touchscreen is available. The Toughbook 53 also offers options for an integrated webcam, a backlit keyboard, and also fingerprint and SmartCard readers for enhanced security.
Embedded wireless connectivity on the Toughbook 53 includes 802.11a/b/g/n Wi-Fi, optional Bluetooth® 2.1, and Gobi2000™ 3G mobile broadband technology from Qualcomm. The device is certified on the Sprint and Verizon Wireless 3G networks, allowing workers to stay connected at all times. The CF-53 is also the first member of the Toughbook family to offer embedded support for 4G LTE networks, with certifications coming later this year.
"Panasonic does a superb job of continuously refreshing its computer line to include the latest advancements in technology," said Richard Lawson, President of Group Mobile. "The Toughbook 52 was one of our most popular and best selling products. Its successor, the Toughbook 53, will surely continue the tradition."
Group Mobile will continue to sell the 15.4" widescreen semi-rugged Toughbook 52 i5 Discrete for customers who require a larger screen and the video performance of a discrete (dedicated) graphics chip.
The Toughbook 53 ruggedized laptop can be ordered from Group Mobile now. For more information on the rugged Toughbook 53, visit http://www.groupmobile.com/product.asp/sku=5374/dept_id=/mf_id=1.
About Group Mobile
Headquartered in Phoenix, AZ, Group Mobile serves customers all over North America. Customers range from Fortune 500 companies and the U.S. Military, to local police/fire/ambulance, to small and mid-size businesses, to the frequent traveler that needs something more durable than a commercial, off-the-shelf computer. Group Mobile carries all the leading rugged computing brands. In addition, Group Mobile offers vehicle docking and mounting equipment from Gamber Johnson, Ram Mounts, Jotto Desk, and Havis/Ledco. To learn more about rugged computers and how they differ from commercial, indoor computers, check out the Rugged Computer Guide or visit us online at http://www.groupmobile.com.
###