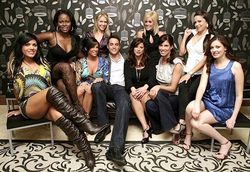 We're excited about the opportunity to watch the season finale with our viewers
New York, NY (PRWEB) April 28, 2009
The stars of VH1's hit reality TV series, Tough Love, have partnered with Date in the City, LLC, to host an exclusive event on Sunday, May 3rd from 7:30-11PM at the 40/40 Club, in New York. Natasha Malinsky and Abiola Abrams will watch the shows season finale with their guests and also be raffled off to go on a double date with two lucky winners. The event will also feature a free martini hour from 7:30-8:30PM courtesy of Americana Luxury Vodka. Learn who really found love, what the rest of the cast is like off-camera, and untold behind-the-scenes secrets, all while raising money to benefit DNAWorks, an organization dedicated to helping fund artistic expression.
"We're excited about the opportunity to watch the season finale with our viewers," said Abiola Abrams, "and even more excited that we will be raising money for DNAWorks."
"It is a great privilege to work with Abiola, Natasha and Americana Luxury Vodka on this project," said Marc Jones, Date in the City, LLC Partner. "This event is a prime example of philanthropic entertainment, which is what Date In The City is all about."
"The last show is full of surprises," said Natasha Malinsky. "Viewers are in for a real shock, and I look forward to experiencing it with them while we simultaneously raise money for a great charitable organization."
Limited advance tickets are available by calling 877.209.5246 or visiting http://www.dateinthecitysponsorspage.com/ditc. The event is 18 to enter and 21 to drink. Ticket proceeds will benefit DNAWorks.
About Date in the City, LLC:
Date in the City has created a new genre of nightlife that it calls "Philanthropic Entertainment." The team partners with different non-profit organizations and hosts events at top tier venues to raise money for charity. These parties include fashion shows, live musical performances and celebrity guests. The company will host a minimum of one event a month and align itself with a different charity each time. Our goal is to bring like-minded individuals together in a relaxed atmosphere to help foster relationships while raising money for charity.
For more information, please visit: http://www.DateInTheCity.com
About DNAWORKKS:
DNAWORKS is dedicated to furthering artistic expression and dialogue, focusing on issues of identity, culture, class, and heritage. They catalyze performance and action through the arts in the communities in which we live and work. In our work, art = ritual = healing = community. We believe that this philosophy and practice lead to a more peaceful world.
For more information, please visit: http://www.dnaworks.org
About THE 40/40 CLUB:
An all-American sports bar and lounge owned by hip hop mogul Jay-Z and partner Juan Perez (6 West 25th Street between 6th Avenue and Broadway), opened its doors to the public in the Summer of 2003. Created by the three longtime friends, 40/40 is 8,000 square feet of pure sports and entertainment in an opulent lounge setting, providing a unique experience not found elsewhere in New York City.
For more information, please visit: http://www.The4040Club.com
About Americana Luxury Vodka:
Produced at the nation's oldest family distillery, Americana is the country's first Luxury Vodka. Using only the finest grains harvested from our heartland, and combining only the purest water sourced from 300 feet below sea level, a new tradition has been born. From the bottle's intricate craftsmanship, to the vodka's crisp smooth finish, Americana captures the spirit of the greatest nation on earth. It was created with one goal in mind, to further promote life, liberty, and the pursuit of happiness. Every country has its vodka, and now after 231 years, we have ours!
Visit us at: http://www.americanavodka.com
###