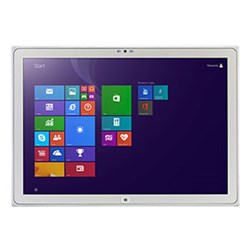 We expect the Toughpad 4K and FZ-M1 to be extremely popular among our customers requiring the Windows operating system and a high resolution display
Chandler, AZ (PRWEB) February 04, 2014
Group Mobile, well known for carrying the top brands in rugged laptops, rugged tablet PCs, rugged smartphones, and rugged handheld computers has extended its product offerings to include the new Panasonic Toughpad 4K and Toughpad FZ-M1 rugged tablet computers.
The Toughpad 4K UT-MB5 has the highest resolution display ever sold commercially. This business- rugged Toughpad has a large 20-inch screen with 3840 x 2560 pixels, 15:10 aspect ratio and 230 pixels per inch making it perfect for displaying large images, A3 drawings, brochures and multimedia.
With a 256GB solid state drive and SD card slot, the Toughpad 4K has plenty of space to store applications and data. The advanced display and resolution also makes zooming and resizing images prompt and crystal clear. With this kind of power and visual clarity, it's a whole new way to operate. Powered by an Intel® Core™ i5 vPro™ CPU, up to 8GB RAM and NVIDIA® GeForce® graphics, the Toughpad 4K is able to display very high resolution videos smoothly and without buffering.
The Toughpad 4K comes pre-installed with Windows 8.1 Pro allowing enterprises to use all their existing applications and Office products. The Toughpad 4K UT-MB5 business rugged tablet also supplies all the necessary interfaces, including USB 3.0, SD card slot, headphone jack and optional SmartCard reader. An electronic touch pen is also available. Combined with accessories such as the Panasonic desktop cradle and carry solution, the Panasonic Toughpad 4K can be used as both a desktop PC and tablet.
The Panasonic Toughpad 4K tablet can be ordered from Group Mobile today. To learn more, visit http://www.groupmobile.com/product.asp/sku=7065, or call toll free 866-RUGGED8 (1-866-784-4338).
The Toughpad FZ-M1 is a rugged 7-inch tablet with a 4th generation Intel® Core™ i5 processor. Running Windows 8.1 Pro, the Toughpad FZ-M1 can be easily incorporated into enterprise and government environments. With a broad range of configuration options available, it can be customized to meet the unique needs of highly mobile professionals in diverse markets such as field services and sales, retail, supply chain and logistics, and government.
The user-replaceable battery for the Panasonic Toughpad FZ-M1 delivers 8 hours of uninterrupted work, with quick-charging technology that reaches 100% capacity in just two and a half hours. Its fully-rugged design is tested to meet MIL-STD-810G specifications for drops up to 5 feet, shock, vibration, altitude, humidity and extreme temperatures. The Toughpad FZ-M1's 500 nit, daylight-readable WXGA display features an anti-reflective screen treatment, making it ideal for outdoor use. The M1's high-sensitivity capacitive, 10-point multi-touch screen can even be used with thick industrial-type gloves.
The Toughpad FZ-M1 tablet offers a broad range of configuration options, allowing companies to customize the ideal tool for their workforces. Configuration options include dedicated GPS, Barcode reader, Ethernet or serial port; and a choice of near field communications (NFC), SmartCard reader, UHF radio-frequency identification (RFID) (up to 10 ft. range), or Magnetic Stripe reader. Additionally, the Toughpad FZ-M1 is the first rugged 7-inch tablet on the market offering 4G LTE multi-carrier embedded wireless broadband connectivity.
"We expect the Toughpad 4K and FZ-M1 to be extremely popular among our customers requiring the Windows operating system and a high resolution display," said Stephanie Kreitner, Vice President of Group Mobile. "Panasonic rugged computers have always been a favorite among our customers because of Panasonic's excellent reputation and years of experience in the mobile computing industry, as well as the product line's outstanding toughness and dependability."
The Panasonic Toughpad FZ-M1 tablet can be pre-ordered from Group Mobile today. To learn more, visit http://www.groupmobile.com/product.asp/sku=7095, or call toll free 866-RUGGED8 (1-866-784-4338).
To learn more about all of Panasonic Toughpad rugged tablets Group Mobile carries, visit, http://www.groupmobile.com/dept.asp/dept_id=438.
About Group Mobile
Headquartered in Phoenix, AZ, Group Mobile serves customers all over North America. Customers range from Fortune 500 companies and the U.S. Military, to local police/fire/ambulance, to small and mid-size businesses, to the frequent traveler that needs something more durable than a commercial, off-the-shelf computer. Group Mobile carries all the leading rugged computing brands. In addition, Group Mobile offers vehicle docking and mounting equipment from Gamber Johnson, Ram Mounts, and Havis/Ledco. To learn more about rugged computers and how they differ from commercial, indoor computers, check out the Rugged Computer Guide or visit us online at http://www.groupmobile.com.