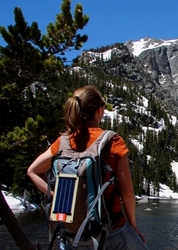 For every ToughStuff 2-piece solar lighting set bought in the UK or mainland Europe, £20 goes to fund a Solar Village Entrepreneur (SVE).
(PRWeb UK) November 15, 2010
Buy One Fund One: Buy a ToughStuff solar panel and lamp for £25 and help fund a job for a Solar Village Entrepreneur in Africa. Every lighting kit bought will improve lives and benefit the environment.
1.46 billion people in developing countries have no access to electricity. Until now, for many, their only lighting has been kerosene lamps or candles which are polluting, cause lung diseases and waste money. The ToughStuff 2-piece solar panel and lamp is an alternative providing clean, affordable lighting that's good for people's health, wealth and the environment.
The ToughStuff kit is robust, practical and has many everyday uses in the West too: as a shed or camping lamp, or just handy for power cuts. The 2-piece solar light set includes a uniquely flexible, light-weight solar panel, designed to work even in low light conditions, and bright rechargeable LED lamp. The lamp features four intensity settings and provides up to 30 hours of light.
The solar panel and lamp make a perfect Christmas gift for anyone who enjoys the outdoors - and the Buy One Fund One scheme means people in Africa are also benefitting too.
For every ToughStuff 2-piece solar lighting set bought in the UK or mainland Europe, £20 goes to fund a Solar Village Entrepreneur (SVE). ToughStuff, a social enterprise, donates £10 from every £25 purchase and this amount is matched by a European Government scheme.
The money helps to provide microloans and training for SVEs to establish small, profitable businesses, on average a more than 300% increase on local average annual income - so they are able to lift their own family from poverty as well as providing solar power to people who need it most.
Over the past 15 months, with the help of its SVEs, ToughStuff, a social enterprise, has brought clean and affordable energy to over 425,000 of the world's poorest people in the developing world, saved its customers £2.6 million and 2,500 tonnes of CO2 emissions.
ToughStuff's products are guaranteed for one year. To order and for more information please go to http://www.toughstuffonline.org/buyone-fundone/
http://twitter.com/TSBuyOneFundOne
http://www.facebook.com/ToughStuffOnline
Notes for Editors
Contact Information http://www.ToughStuffonline.com
Roger Hattam +44 (0) 20 72610983 +44 7768 801174 (m) Roger(dot)hattam(at)ToughStuffonline(dot)com
Ros Dawson +44 (0) 1274 561241 +44 7720 882512 (m) ros(at)rosdawsonmedia(dot)co(dot)uk
How ToughStuff can change lives: Tahiry a Solar Village Entrepreneur.
In Madagascar, Tahiry Ramoa, aged 25, a recent university graduate could not find employment. He raised money from his family to become one of the first ToughStuff Solar Village Entrepreneurs (SVE). The SVE program enables entrepreneurs to create a livelihood by providing solar energy solutions within their community. Tahiry started with 30 solar panels and lamps, which he hired out to villagers. For the same price as they would usually spend on candles or kerosene, his customers have a light that is brighter, healthier and safer. After his first week he returned to the ToughStuff office to buy more, "The students are angry with me that I don't have enough lights for them all. They need light to study!" Tahiry now has 2 employees and 115 solar kits – lighting over 10% of the village. One of the employees recently noted: "ToughStuff has become so ingrained in the village that I can't imagine life without it."
ToughStuff's Buy One Fund One campaign provides loans and support to entrepreneurs like Tahiry but who are not able to self-fund. This is a link to a low resolution video about Tahiry http://www.youtube.com/watch?v=0ImMvmODA6w
More Videos:
ToughStuff in 60 Seconds: http://www.youtube.com/watch?v=fRG7UjDdv7Y
How Tough is ToughStuff: http://www.youtube.com/watch?v=m4iqzAmVqFA
ToughStuff is the winner of the 2010 NEMEX Renewables Innovation Award sponsored by British Gas at this year's Environment and Energy Awards.
ToughStuff is also the winner of the 2010 Tech Awards.
ToughStuff helps improve information and security for elderly people living in temporary camps following the earthquake in Haiti.
ToughStuff's founders: biographies.
Andrew Tanswell is a social entrepreneur; the CEO and joint founder of ToughStuff. He trained as an engineer and later worked as a management consultant building up his own niche change management consultancy firm. His international relief and development experience includes working with Medair in Iraq and Somalia as well as providing strategy and business development advice to large charities. He was the Executive Director for Micah Challenge UK before founding ToughStuff, a social business which aims to lift millions of people out of poverty through enterprise. Andrew was one of the winners of the 2009 Global Social Business Incubator for Social Entrepreneurs sponsored by the Skoll Foundation.
Adriaan Mol is an aid worker turned social entrepreneur and joint founder of ToughStuff. His awards include Winner of Global Social Benefit Incubator, Santa Clara University, California, 2006 and Winner of World Bank global Development Marketplace award, 2005 for BushProof, a social-enterprise that became a forerunner in the field of innovative drinking water supply. Adriaan has many years experience in organizational and strategic management of NGOs. His areas of expertise include design, implementation and evaluation of relief and development projects in Africa and Asia, including (civil) war and natural disaster situations. He also has technical expertise in (emergency) water supply, rural (social) marketing, well drilling, appropriate technology, and entrepreneurial approaches to poverty reduction including base of the pyramid (BoP) business.
###