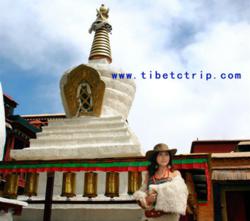 Welcome to travel Tibet with local tour agency www.tibetctrip.com!
(PRWEB) June 10, 2013
Many travel Tibet for an easy experience that allows them to take away valuable knowledge of Tibetan culture and have opportunities to enjoy its beautiful landscapes. With the new 5-day Tibet Highlight Cultural Odyssey travelers will see important Tibetan cultural and historical sites in Lhasa, visit Tsetang (Tibet's ancient capital), and see the magnificent shining blue waters of Lake Yamdrok. Tibet travel agency TCTS employs native Tibetan guides and arranges for a private car and driver, helping travelers to relax and enjoy the scenery as they explore Tibet. This tour is great for families, groups of friends, or anyone looking for an easy and enjoyable travel experience.
Lhasa: On the first day of the Tibet tour, travelers' native Tibetan guide will meet them at the airport and accompany them to their hotel! After a night of relaxing and acclimatizing to the altitude it's time to start sightseeing: in the morning travelers will explore Potala Palace and then make a short walk to Jokhang Temple. In the afternoon the group heads to the outskirts of Lhasa to see the famous debating monks of Sera Monastery. After this action packed day, the travel group can do some shopping in Barkhor Bazaar.
Lake Yamdrok and Tsetang: On the second day of sightseeing, travelers will have a day's worth of opportunities to enjoy the scenery! In the morning the group visits Norbulingka, summer palace of the Dalai Lama, then heads for Lake Yamdrok! After Lake Yamdrok the tour of Tibet makes its way to Tsetang, Tibet's ancient capital located in the Yarlung Valley. Yarlung Valley is the legendary origin of the Tibetan people; here travelers will visit Samye Monastery and Yungbulakang Palace, the first palace built in Tibet. After the group returns to Lhasa, the following morning the group's native Tibetan guide will see them off at the airport or train station.
Over this 5 day Tibet travel experience, travelers will enjoy an introduction to Tibetan culture while sightseeing in Lhasa, spend time taking in majestic mountain landscapes, and learn about ancient Tibetan history in Yarlung Valley. TCTS takes care of details like travel permits and transportation; their native Tibetan guides are passionate about sharing where they come from and welcome travelers' questions, all making for an easy, yet unforgettable experience. Summer in Tibet is almost here; travelers are encouraged to start planning their tour now.
Devin Moore provided this news release above on behalf of local Tibet tour agency TCTS (tibetctrip.com). Devin is a travel writer and independent economic analyst based in Springfield, Missouri USA. His economic research is currently focused on airfare pricing. Devin Moore works to spread awareness of Tibet and its people through publishing Tibet travel information.