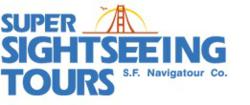 I recently took a Super Sightseeing Tour to Yosemite which was truly spectacular
San Francisco, CA (PRWEB) November 04, 2011
Super Sightseeing Tours, a San Francisco tour bus company is answering customer demand by offering free WIFI on all its tour coaches. They felt that it was important to offer this added perk for their customers to further their effort of providing superior customer service to all its customers.
More and more people are wanting or needing to stay in touch with the outside world while on vacation or a daytrip. Busy executives will have access to their emails and have internet access via the free WIFI offered by Super Sightseeing Tours without having to pay for the roaming or data costs that come with wireless phone carriers.
Additionally, this gives people the ability to share what they are seeing and experiencing real time via Twitter, Facebook and other social media.
Super Sightseeing Tours offers the only hop on, hop-off bus company in San Francisco with a free WIFI service. They are offering this on day trips leaving from San Francisco as well as their charter services.
"I recently took a Super Sightseeing Tour to Yosemite which was truly spectacular. The four-hour journey to the park wasn't painfully slow for me especially because I was able to answer all of my emails and surf the web while I was on the bus," said Andrea Torralba.
For more information on Super Sightseeing Tours, please call them at (415) 353-5310 or visit them on the web at http://www.supersightseeing.com. They are located at 2627 Taylor Street, San Francisco, CA 94133.
About Super Sightseeing Tours
Super Sightseeing Tours is Northern California's most reputable tour company. See beautiful San Francisco from their luxurious clean-air buses. Their experienced San Francisco tour guides will show tourists San Francisco and the Bay Area's many splendors. Have an informative, memorable and fun experience throughout the city Muir Woods, Sausalito, the Wine Country, Monterey, Carmel, Yosemite and other California sights. All bus tours include pick-up and drop-off at most San Francisco Hotels.
###