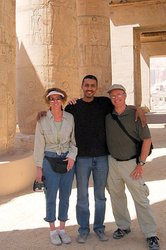 Torsten went over and above, BY FAR, in any expectation we had for the day. Torsten took the time to do some
Stuttgart, Germany (PRWEB) July 30, 2009
A jovial group of 15 British weekenders meander through the narrow streets of Temple Bar in Dublin seeking out the next "traditional" Irish bar. In Bangkok, it's an elbow-jabbing scrum around the Emerald Buddha at the National Palace as tourists from dozens of nations jostle for the perfect photo opportunity. In Cancun, Mexico, thousands of students on Spring Break swarm in and out of beachside pubs and hotels in a collective mass.
Where can you enjoy an alternative travel experience which does not require you to share it with busloads of other tourists? The answer: through the local wisdom of your very own private tour guide.
A tour guide enables you to experience their destination in a unique way, through the eyes of a local professional. Below, some of OurExplorer's clients illustrate the value a professional tour guide can provide any independent traveler.
Firstly the proactive Stuttgart tour guide - Torsten Pasler - who brought Janet Stefko through an emotional journey as she traveled transatlantic to trace her European family heritage - "Torsten went over and above, BY FAR, in any expectation we had for the day. Torsten took the time to do some "homework" in locating people & places without any request of mine. He made this day a day full of memories that have touched deeply the hearts of my family and I."
New Zealand based travel writer Yvonne van Dongen decided on a recent return visit to Buenos Aires - Argentina - that she would experience the city in a more personalized way: " I spent an entire day with this engaging tour guide and for the first time in Buenos Aires I stopped looking at my feet (avoiding the broken pavements and dog droppings) and started looking up at the detail in the buildings exterior and inside on the ceilings."
Suyi Lam of Singapore, seeking a rural adventure, traveled to Sabha in Malaysia with 2 other friends. Their main interests were island hoping across the crystal clear water, exploring the sandy beaches and hopefully to conquer Mount Kinabalu. [Sabha tour guide - Grace Leong - did not disappoint making the trip a huge success - "I would have given a 10 star if I could! We totally enjoyed our trip so much! Extremely informative and resourceful!"
Gerald and Pat Cook from Atlanta in the USA arrived in Egypt by cruise liner on their first and probably last Mediterranean trip. Keen to break away from the large group tours to ensure they crammed the most in, they hired the services of Luxor tour guide Mohamed and were "able to see about five or six additional sites that the group didn't see….."
From discovering family roots to finding that gem off the beaten track experience, private tour guides facilitate you to see your overseas destination through the eyes of a local. So before you jet off on your next holiday check out in advance some tour guide resources e.g. OurExplorer.com and see how you can be a local in a foreign land.
###