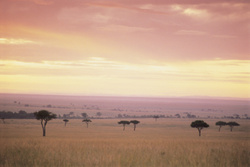 Castro Valley, CA (Vocus) October 28, 2010
Tour de Jambo announces today that they have added a travel package that would incorporate a memorable trip to Masai Mara Kenya. The idea was thought of by native Samuel Mwangi to offer a trip that would educate and create a memorable experience in Africa.
The Mara reserve is 1510 sq km of incredible wide-open landscapes and fertile riverine woodland following the looping meanders of the Mara and Talek rivers. In Masai Mara there are frequent amount of wildlife such as Masai giraffe, baboons, warthogs, bat eared foxes, grey jackals, spotted hyena, topis, impala, hartebeests, wildebeest. Elephants, buffaloes, zebras and hippos also exist in great numbers. It is also common to see lions either basking after a heavy meal, or surveying the plains for their next meal. Cheetahs and leopards are harder to spot but are still reasonably common.
The ultimate action here is without a doubt the annual wildebeest exodus in July and August when millions of these grass eaters move north from the Serengeti in search of lush grass before turning south again in October.
The tour to Africa trip is an 8 day adventure that includes scenic routes and an early morning balloon safari with champagne breakfast in the park.
For more information please call 1-866-329-7923 or visit us at Tour de Jambo
###