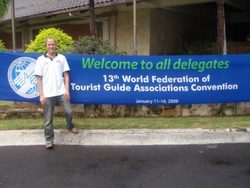 Many travel websites providing tour guides have approached us through the years but OurExplorer stood out with it's commitment on offering dependable, licensed tour guides to the traveling community
Sydney, Australia (PRWEB) March 5, 2009
The world's #1 Tour Guide Booking portal, OurExplorer, has this week confirmed a unique partnership with the World Federation of Tourist Guide Associations (WFTGA). This strategic alliance puts OurExplorer firmly as the global leader and provider of private tour guides across the travel industry.
OurExplorer now has access to all the thousands of licensed WFTGA tour guide members across the world. A deal initially brokered during the WFTGA annual convention in Bali - Jan 2009.
"Many travel websites providing tour guides have approached us through the years but OurExplorer stood out with it's commitment on offering dependable, licensed tour guides to the traveling community" - WFTGA President - Rosalind Newlands.
Several high traffic travel websites and blogs also benefit by offering the OurExplorer tour guide service to their own clients via an affiliate system. Such travel websites enjoy a much needed ancillary revenue stream during these tough economic times.
"An example is a flight booking website that offers a client who booked a flight to Shanghai - the experience of a local tour guide when they arrive in Shanghai" - Dave Cunningham - Chief Exploring Officer - OurExplorer.
OurExplorer has now thousands of professional tour guides covering over 110 countries. Travelers enjoy the personal interaction and local wisdom that only a tour guide can offer. It facilitates the learning of the history and culture of a country directly from a native.
Special bonus of 1 complimentary tour guide hour for all OurExplorer customers until March 31st. See the world through the eyes of a local the next time you travel overseas!
###