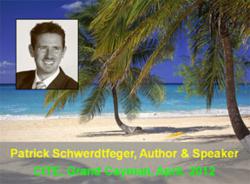 using social media to promote travel destinations
San Francisco, CA (PRWEB) April 09, 2012
Keynote speaker, Patrick Schwerdtfeger, announced today that he will present his signature program entitled "Social Media Victories" at the Cayman Island Tourism Exchange (CITE) on May 1, 2012. The annual event is held on Grand Cayman, the largest island, and attracts leading tourism suppliers and travel wholesalers from around the world.
Part of this year's CITE forum will focus on social media and how tourism professionals can use it to promote destinations like the Cayman Islands. Patrick Schwerdtfeger will present his Social Media Victories session in the morning and Murray Izenwasser from Biztegra will present a more tactical social media workshop during the afternoon.
The Cayman Islands are a favorite destination in the western Caribbean Sea. Grand Cayman is the largest of the three Cayman Islands. "Not only is Grand Cayman a beautiful island destination but it also strives to cultivate a world-class tourism infrastructure," explains Schwerdtfeger, "and I am thrilled to contribute to that objective."
About CITE
The Cayman Islands Tourism Exchange (CITE) is the only annual forum for leading suppliers of the Cayman Islands tourism industry to meet with travel wholesalers from the US, UK, Europe and Canada in a professionally organized business exchange. The event is organized by the Cayman Islands Tourism Association (CITA).
CITE allows the Cayman Islands tourism bodies to educate our wholesalers and international media about the tourism product in the Cayman Islands so that they are equipped to successfully sell or promote the Cayman Islands to their customers.
About Social Media Victories
Most people using social media platforms are just wasting time. Social Media Victories is a powerful keynote program by Patrick Schwerdtfeger that reviews 21 success stories where businesses leveraged these platforms and achieved real results. Platforms covered include Facebook, LinkedIn, Twitter, Pinterest and YouTube.
Social Media Victories distills these 21 case histories into a "winning formula" that virtually any business can use to revolutionize their marketing and dominate their industry. While most social media presentations fail to inspire action, attendees of Social Media Victories are consistently dazzles by the simplicity and practicality of Patrick's message.
About Patrick Schwerdtfeger
Patrick Schwerdtfeger (@schwerdtfeger on Twitter) is a keynote speaker who has headlined events for Bloomberg TV, Bank of America, Comcast Cable, Research in Motion (BlackBerry), Time Warner Cable and United Healthcare among others, as well as dozens of conferences and conventions around the world. His programs focus on business trends, small business marketing and the social media revolution.
Patrick is the author of Marketing Shortcuts for the Self-Employed (2011, Wiley) as well as Webify Your Business: Internet Marketing Secrets for the Self-Employed (2009) and Make Yourself Useful: Marketing in the 21st Century (2008). He has been featured by the New York Times, LA Times, San Francisco Chronicle, CNN Money, Fortune, Bloomberg Businessweek, the Associated Press, MONEY Magazine and Forbes, among others.
Patrick is available for television appearances and media interviews.