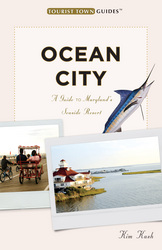 New York, NY (PRWEB) September 18, 2009
A new travel guidebook, Ocean City: A Guide to Maryland's Seaside Resort (Channel Lake, Inc., $13.95) brings travelers the independent, opinionated voice of a fellow Ocean City enthusiast.
The book reveals where to shop, eat, play, and stay - and what to avoid - for vacationers looking for a pampered, upscale getaway and also for those who prefer an old-fashioned ocean vacation. The book, a new entry in the Tourist Town Guides series, is the only up-to-date, independent guidebook to Maryland's seaside resort.
Much is new in Ocean City, so the timing of this book is excellent. Some long-time Ocean City vacationers worry that new development in this densely built beach town is wiping out some of its funky, old-fashioned charm. However, the new Ocean City book reminds vacationers that some of the town's multi-million-dollar residences are located next to a dinosaur-themed mini-golf course. Most of Ocean City's finest, newest restaurants are in strip malls. The contrasts between the sublime and the ridiculous are everywhere.
Author Kim Kash writes from the Washington, DC-area about travel, food, health, and the environment. She was born and raised in Greenbelt, Maryland, and lived for several years in California. Living on the west coast gave her a deeper appreciation for the seasons and the weathered charm of the mid-Atlantic states.
Ocean City: A Guide to Maryland's Seaside Resort is distributed by Midpoint Trade Books. It is available from Ingram, Baker & Taylor, and at all fine bookstores.
###