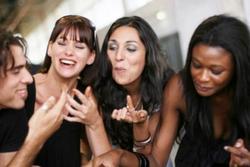 The food was amazing! We highly recommend
Lexington, KY (Vocus) September 2, 2010
A walking food tour is now being offered in downtown Lexington. Tours are offered every weekend and will continue as a seasonal attraction April through October. The guided culinary adventure stops at seven stops where tour guests sample the foods that make the eateries popular, cuisine that represents the region and local brands. Tours are operated by Bleu Plate Tours, which is locally owned by tour operator, Laura Mize.
Approximately 1.3 miles in length, each tour takes three hours to complete. The route intersects bustling urban sections of downtown, such as Main Street, as well as the tranquility of historic neighborhoods such as Gratz Park. The tour is filled with discovery of restaurants, attractions and history of which even many Lexingtonians are unaware. Tour guests see and experience things that just aren't seen from a car window. Touring downtown on foot provides a more intimate way to learn what downtown really has to offer.
Unanimously positive reviews have been given by guests who took a Bleu Plate Tour during its inagural month of August. "The tour was absolutely great! We heard bits of history along the way to restaurants we would never have found or experienced in only a few days visit," write tour guest, Rebekkah from Pennsylvania. "The food was amazing! We highly recommend," she continued as she reviewed the August 14th Bleu Plate Tour.
'The stops on the tour are at some of Lexington's best and most renowned restaurants,' said Laura Mize. 'Some known for innovative food and fine dining, and others for regional comfort food, local flavor and atmosphere. It is a fabulous representation of the entire spectrum of Lexington's food culture.'
Advanced tickets are required. Private tours and additional tour dates are available upon request. For more information and tickets, see bleuplatetours.com or call ticketing agent, Zerve, at 800-979-3370.
Future plans include developing tours in other Lexington neighborhoods, such as Chevy Chase, as well as evening social tours, such as Valentine's Day tours, tapas tours and progressive dinners.
###