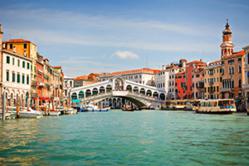 It is the hope of those working on the MOSE that these periodic water floods would forever be replaced with the unhampered flooding of visitors to this beautiful city.
Boston, MA (PRWEB) January 18, 2013
The newspapers and online media were abuzz with images of Venice submerged in tidewater, with locals and visitors on tours of Italy alike trying to make the most of a bad situation. In November, more than two-thirds of the city was submerged in water. The Modulo Sperimentale Elettromeccanico project (MOSE), which will be the most elaborate dam construction project in the world by the time it is completed, is expected to prevent Venice and its outlying villages from being submerged once and for all. The first phase of the MOSE project was completed in September 2012, and the entire project is slated to be completed by 2014.
With all of the press that the flooding received, one would expect a negative impact on Venice tourism. After all, these are the highest water levels in almost a quarter of a century, covering much of Venice in five feet of water. However, despite these unfavorable circumstances, millions of tourists continue to flock to (one might forgive the expression, 'flood') the city.
When the waters were at their highest some visitors, determined not to let a little water spoil their vacation, strolled (read 'splashed') through the cobblestone streets, enjoyed espresso—with legs submerged—in flooded cafés, and even went for a swim in Venice's famous St. Mark's Square. In short, having been handed lemons, they made lemonade.
Due in large part to tourists' insuperable spirit, tours of Italy in the aftermath of the "high waters" continue to prominently feature Venice. Jean Moss, owner of small group tours operator Olde Ipswich Tours, while perhaps a little jealous of having never wet her feet in such a grand piscina, still prefers the "Floating City" to be stoutly living up to her name.
"Admittedly, there is something romantic about the 'City of Water' overflowing with character, as it were, and visitors and locals alike making the most of this adventure" Moss pines, "and yet, every adventure must come to an end. And I, for one, will be thrilled to visit Venice again this June on our Southern France and Northern Italy tour enjoying all the natural enchantment and romance of the city with feet firmly planted on dry ground."
Moss has been offering her Southern France and Northern Italy tour for over 15 years. "It has from the very first year been one of our fellow travelers' favorite tours and has become a classic example of the culturally and gastronomically rich tours that we offer," she said. "And it is really no wonder why; travelers enjoy Medieval hilltop villages, cappuccino in Venice, Pastis on a veranda overlooking the Mediterranean, Valpolicella at a trattoria on Lake Como, the pink and yellow houses of Portofino, Juliet's balcony in Verona, Chagall's art in St. Paul de Vence, and much, much more!"
It is the hope of those working on the MOSE that these periodic water floods would forever be replaced with the unhampered flooding of visitors to this beautiful city. This is a sentiment Jean Moss, and all those who have experienced this enchanted city, would no doubt also affirm.
To find out more about Olde Ipswich Tours' tour of Italy, including the romantic town of Venice, please visit http://ipswichtours.com/southern_france.html.
Olde Ipswich Tours is a small group tours operator based in Ipswich, Massachusetts specializing in culturally rich gourmet tours to Europe. For a complete list of upcoming small group tours, or to learn more about Olde Ipswich Tours, visit our website today.