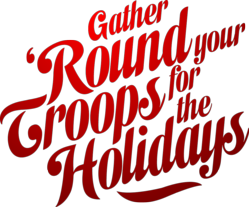 Imagine 'teleporting home' to immersive 360º holiday greetings from loved ones.
San Francisco, CA (PRWEB) November 30, 2011
Soldiers across the globe are able to 'teleport home' for the holidays now through January 1st through an immersive, heartwarming virtual tour experience.
Thousands of professional panoramic virtual tour photographers – and millions of iPhone and Android users that have 360º panoramic photography shooting apps – can create personal holiday 'holodecks' for soldiers; and then share these unique experiences for free as part of the Gather 'Round Your Troops for the Holidays campaign via TourWrist – a new virtual tour platform.
"Imagine what it must be like to be stationed overseas – far from your family and friends during the holidays," writes TourWrist CEO & Founder Charles Armstrong in an eBlast to thousands of TourWrist virtual tour photographers today. "Now imagine 'teleporting home' to immersive 360º holiday greetings from loved ones."
"While virtual tours are great for viewing hotel rooms, homes for sale and restaurants, they're also an excellent medium for heartwarming holiday greetings," said Armstrong. "For example, using the TourWrist app, a fire department can gather 'round the troops to wish them happy holidays. They're also an excellent way to solute our soldiers."
Gather 'Round Your Troops for the Holidays greetings share the tour tag "troops" to help armed forces around the globe more easily find the heartwarming greetings on the TourWrist app or website.
For help finding a volunteer photographer, post a note to the TourWrist Facebook page, Panoguide.com or other panoramic communities on Facebook and LinkedIn. Or, download a 360º panoramic shooting app and create a free TourWrist account to post an unlimited number of virtual tour scenes for free.
About TourWrist
TourWrist is a mobile and web-based virtual tour company empowering consumers to shoot, upload, search for, view, market and share their 360º experiences.
Consumers can easily upload their own images, or browse and share 26,600+ panoramic tours already available on the TourWrist website and within the free TourWrist iOS app (iPhone, iPad and iPod Touch) available in the Apple iTunes App Store. (TourWrist will be optimized for Android OS mobile devices in December 2011.) TourWrist launched commercially in early 2011.
TourWrist owns and operates the world's largest panoramic photography forum, Panoguide, with 6,300+ professional virtual tour photographers globally, and is a sponsor of the International VR Photography Association (IVRPA).
The TourWrist company (private) is headquartered in San Francisco.
TourWrist is an independent service and has not been authorized, sponsored, or otherwise approved by Apple Inc. All trademarks, including TourWrist®, are registered trademarks of their respective companies.
# # #