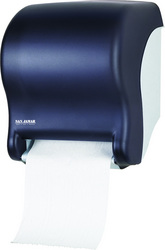 Elkhorn, WI (PRWEB) August 12, 2008
San Jamar's electronic touchless dispensers offer the most comprehensive family of Universal Electronic roll towel dispensers designed to fit any need. Now San Jamar adds the compact and efficient Tear N Dry ECO, and the new Smart System with IQ Sensor, to their industry leading line up. Both are available early fall, 2008.
The newest addition to this family is the Tear N Dry E.C.O. dispenser, the most compact universal electronic towel dispenser available. This eco-friendly dispenser has a smaller carbon footprint, utilizing 15-30 percent less material than other electronic dispensers on the market.
The Tear N Dry Eco also boasts the best battery life in the industry, dispensing 95 to100 rolls of 800-ft. paper on four D cell batteries. It is also available with "green" mercury-free batteries. The Tear N Dry ECO, like all San Jamar electronic dispensers, dispenses any paper, including 100 percent recycled paper. The compact dispenser fits in many places traditional dispensers can't, making it a great hygienic option for tight spaces, including hand sinks and behind bars. Its optimized design features integrated electronics and a convertible hub system. The Tear N Dry ECO with all its features has been designed to be remarkably simple and easy to use.
The San Jamar Smart System has been improved and now features San Jamar's new IQ Sensor technology.
The IQ Sensor has been added to the Smart dispenser, enhancing its current features which include paper delay and length adjustments, as well as the Infinity® Auto Transfer system and PDA capabilities. The new IQ sensor features a smart, self-adjusting sensing field; allowing customers to toggle between the new IQ Sensor mode or Towel Out mode. This is the most feature-filled dispenser in the San Jamar family of electronic dispensers. It is faster, and, in San Jamar tradition, delivers the best battery life of electronic dispensers available, dispensing more than 80 rolls of 800-ft. towel on four D cell batteries in Sensing mode. Battery life only goes up when the Towel Out mode is activated. This fast, accurate dispensing, as with all San Jamar electronic dispensers, is consistent throughout the life of the batteries. The newly-outfitted Smart System is available in both Classic and Oceans design.
San Jamar will feature these two, new products, along with their newly-enhanced Tear N Dry electronic dispenser, at the ISSA show, Sept. 9 to 11, 2008, in Las Vegas, Nev.
ABOUT SAN JAMAR:
San Jamar is the leading international supplier of washroom dispensers, food service dispensers and food safety tools. The company markets a wide range of quality products for global Foodservice and Jan San markets. San Jamar's mission is to consistently offer smart solutions for food safe hospitality and sanitary washroom environments. The company is headquartered in Elkhorn, Wis., with a European division in Belgium (San Jamar Europe), and a division in Mexico (San Jamar Mexico). San Jamar is one of the companies of The Colman Group. For more information, please call 1-800-248-9826 or e-mail inquiries to sanjamar @ sanjamar.com.
###