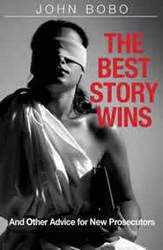 "This book should be required reading for anyone starting or even considering a career as a prosecutor," Creg Datig, California District Attorneys Association
Washington, DC (PRWEB) July 2, 2010
From one of the oldest legal publishers in the country comes a new book for prosecutors, law students and anyone else interested in a behind the scenes look at the job of the American legal superhero – the prosecutor. In "The Best Story Wins," nationally recognized legal educator and former prosecutor John Bobo offers an essential explanation of how the role of storytelling is critical to effective advocacy, as well as other lessons of legal jujitsu. Bobo imparts readers with the wisdom that leads to winning at trial – crafting a theme for your case, effectively battling defense attorneys, and communicating with both judges and juries. Sections also explore practical concerns applicable outside the courtroom, such as how to recognize the symptoms of burnout and developing a healthy work-life balance.
Unlike most legal treatises, the book is also enjoyable to read. "The work is as welcoming as a conversation with a good friend," former prosecutor Frank Horowitz says. "It's a treasure for all new prosecutors and those who train or supervise them."
"The Best Story Wins" is winning glowing reviews from prosecutors across the country. "This book should be required reading for anyone starting or even considering a career as a prosecutor," Creg Datig of the California District Attorneys Association says. Adds Rick Knight, Assistant Prosecutor in Kansas City, Missouri, "This manual for prosecuting cases should be on the desk of every prosecutor in the country."
According to Michael Lyons, President of Tower Publishing, "Advice books succeed in many other categories, but you hardly ever see them in legal publishing. 'The Best Story Wins' immediately stood out to us for its humor, humanity and readability. This book fills a tremendous underserved need in bridging the gap between law school and the practice of law."
Author John Bobo explains, "In an average day, prosecutors face almost every issue that plagues society: drug abuse, gang violence, domestic violence, child abuse, drunk driving, armed robbery and murder. And that's just the docket before lunch," Bobo says. "With shoe-string budgets and huge case loads, prosecutors deal with the most horrible things that people do to each other. This book is for them. It's the book I wish someone had pushed into my hands those first weeks on the job, and it's the book to help prosecutors thrive and enjoy their profession."
"The Best Story Wins" is available from Tower Publishing for $30.00 by ordering online at http://www.towerpub.com or by calling 1-800-969-8693.
About the Author – A well-known national trainer of prosecutors, John Bobo served as a prosecutor for the State of Tennessee before joining the American Prosecutors Research Institute in Alexandria, VA. Receiving his J.D. from the University of Memphis in 1991, John has prosecuted cases ranging from first-degree murder to shovel and knife fights, but his primary areas of focus were narcotics offenses, vehicular homicides and impaired driving related crimes. In 2004, John was appointed by the White House to serve in the U.S. Department of Transportation to work on drug and alcohol policy issues, and he later headed up U.S. DOT's Research and Innovative Technology Administration. Currently, he lives in the Washington, D.C. area working as a speaker, writer and consultant.
About the Publisher - Founded in 1772, Tower Publishing offers legal publications of regional and national focus. Recent publications of note include Basic Trial Advocacy by Harvard Law School's Peter Murray and Missouri Corporation Law and Practice, 7th Edition, by Charles Hansen and Don Lents of Bryan Cave LLP.
###