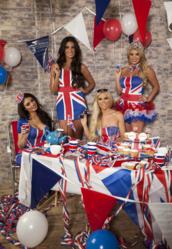 Gainsborough, Lincolnshire (PRWEB UK) 30 May 2012
The gorgeous girlies enjoyed tucking into tea party goodies and rocking out to some old school Spice Girls tunes!
The TOWIE girls are a huge hit nationwide with an average 1.7 million viewers tuning in each week to watch the girls as they go about life in Essex. When it comes to partying Essex style the guys and gals of the show love nothing better than a fancy dress party and adore wearing Smiffy's fantastic collection of dress up costumes, wigs and accessories.
Smiffy's 'All That Glitters' sequined union jack dress, was easily the biggest hit with the girls, who all love anything with a bit of sparkle. Billi took centre stage, showing off with a fab Geri Halliwell impression, Chloe puckered up in a World War II pin up costume, whilst Frankie and Cara dug for victory, Essex-style, in some seriously retro Land Girl costumes.
This activity forms part of Smiffy's on-going campaign to encourage party people to enjoy a 'cool Britannia' with their Best of British dress up; and of course remind you that 'The Only Way is Smiffy's' when it comes to wearing your home colours with pride.
Smiffy's will be offering customers limited edition TOWIE bags along with a whole host of fantastic point of sales material featuring the campaign images.
Check out the online campaign featuring an exclusive behind the scenes video on smiffys.com; Rule Britannia with TOWIE.
It's Great…It's British…It's Smiffy's.