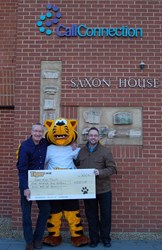 The money they've raised will go towards supporting vulnerable and less privileged children in Ipswich
(PRWEB UK) 4 December 2012
Staff at Ipswich based car insurance comparison website Tiger.co.uk today presented a cheque for over £515 to Paul Morris, who accepted the cheque on behalf of the Town 102 Kids Trust. The charity was selected by staff of the company as a beneficiary of one of its monthly charity "dress down days" and a raffle.
Town 102 Kids Trust aims to make life better for less privileged children and their families through work with schools, youth groups, disabled children and many other youth initiatives in the local area.
Andrew Goulborn, Commercial Director for Tiger.co.uk, said: "We are delighted that our staff decided to support the important work that is carried out by the Town 102 Kids Trust. Dress down days are a simple and fun way to raise funds and we would encourage other companies in the area to lend their support too".
Paul Morris, Presenter from Town 102 FM commented: "We're really grateful to Tiger.co.uk for their fundraising efforts. The money they've raised will go towards supporting vulnerable and less privileged children in Ipswich and the surrounding area".
Notes to editors
The aim of Town Kids Trust is to make a difference to disadvantaged (by reason of financial hardship or disability) children - by providing grants to drive welfare, health, ability, education and opportunity - living within the area of the radio station.
If you know of someone who might benefit from a grant, please encourage them to contact Town 102.
Town 102 FM
First Floor
Radio House
Orion Court
Great Blakenham
IPSWICH
Suffolk
IP6 0LW or email charity (at) town102 (dot) com
About Tiger.co.uk:
Tiger.co.uk is a trading name of Call Connection Ltd. Tiger.co.uk is a UK based, independent price comparison site, offering bike, van and car insurance quotes from over 150 motor insurance brands from its website: http://www.tiger.co.uk.
Call Connection Ltd is authorised and regulated by the Financial Services Authority (number 308374).