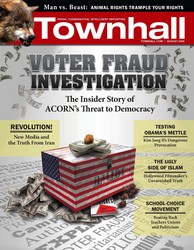 Washington, DC (Vocus) August 1, 2009
Townhall Magazine today announced the wide release of its August, 2009 issue—one that will surely rile voters with its in-depth analysis of ACORN and the notorious community organization's ongoing efforts to bring about radical change in America.
In a profile of ACORN's roots and strategy, Townhall columnist Matthew Vadum sheds light on the infamous organization and its far reaching network of community activism, and widespread allegations of extortion and voter fraud. Additionally, in a candid interview with Vadum, a former ACORN national board member describes ACORN's goals—including fundraising schemes and political ambitions.
Other features of the August issue examine recent victories for school choice and the turning tide in America's war over educational freedom. One article takes a closer look at the agenda of animal "rights" activists and reveals the true motives behind their movement. In foreign affairs, Townhall takes a hard look at the nightmare of a nuclear North Korea, and the innovative role new media outlets played in broadcasting the Iranian election protests to the world.
In addition, Townhall celebrates some 'truth in Tinsel town' with Hollywood director Cyrus Nowrasteh, whose new film, 'The Stoning of Soraya M.,' has been widely praised for its genuine portrayal of Iranian cruelties. Based on a true story, Nowrasteh brings to life the story of an Iranian mob and its austere treatment of a woman falsely accused of adultery.
The August issue is rounded out with the mag's staple features - those familiar monthly columns and blurbs devoted Townhall.com readers rely on for the latest in conservative news and commentary.
Townhall Magazine is the fastest-growing monthly conservative news magazine that specializes in investigative reporting, conservative humor, culture, and fresh commentary from all your favorites like Mary Katherine Hamm, Charles Krauthammer, George Will, and Glenn Beck. New subscribers receive a free copy of columnist Michelle Malkin's acclaimed Culture of Corruption, a thorough indictment of the Chicago-style politics in today's White House.
More information available at http://www.townhallmagazine.com
For a look inside Townhall Magazine, read the online February Edition at http://magazine.townhall.com/february09
About Salem Communications:
SalemCommunications (NASDAQ: SALM) is a leading U.S. radio broadcaster, Internet content provider, and magazine and book publisher targeting audiences interested in Christian and family-themed content and conservative values. In addition to its radio properties, Salem owns Salem Radio Network(R), which syndicates talk, news and music programming to approximately 2,000 affiliates; Salem Radio Representatives(TM), a national radio advertising sales force; Salem Web Network(TM), an Internet provider of Christian content and online streaming; and Salem Publishing(TM), a publisher of Christian-themed magazines. Upon the close of all announced transactions, the company will own 93 radio stations, including 59 stations in 23 of the top 25 markets. Additional information about Salem may be accessed at the company's website, http://www.salem.cc.
Contact: Chris Field, Executive Editor
(703) 247-1701
###