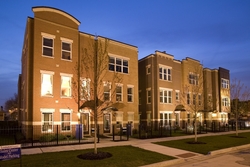 We know that buyers are showing more confidence
Chicago (PRWEB) July 29, 2009
Locally-owned homebuilder Lexington Homes held the top position for sales of townhomes in the Chicago real estate market for the second quarter of 2009, according to a new report from Metrostudy, the leading provider of primary and secondary market information to the housing industry. Lexington Homes recorded the highest average number of Chicago townhome sales among its three new-home communities in the Chicago area during the quarter. The builder currently offers townhomes in Chicago on the Near South Side at Lexington Square in Bridgeport. It also offers townhomes for sale in the northwest suburbs at Willow Place in Wheeling and Lexington Park in Des Plaines. Its suburban townhomes are priced from $249,900 to $301,900, while homes at Lexington Square are priced from the mid $360,000s to the mid $400,000s.
Lexington attributes its market-leading sales to prime location, aggressive pricing, the federal first-time homebuyer tax credit, and a more positive outlook among Chicago homebuyers.
According to Lexington co-principal Jeff Benach, the company has focused on building in close-in suburbs that provide quick and convenient access to downtown Chicago, as well as their own downtown districts that include retail, dining and entertainment options. "We've seen more and more buyers shopping for homes closer to the city. And we've also seen a definite movement among first-time buyers to take advantage of the $8,000 First-time Homebuyer Tax Credit. Building in the right areas at price points that are on target with first-time buyer budgets has allowed us to consistently sell homes during this challenging time."
Homes at Willow Place in Wheeling and Lexington Park in Des Plaines measure from 1,605 to 2,157 square feet and come standard with two to three bedrooms, 2½ baths, oversized private balconies, 42-inch cabinets and GE stainless steel appliances in the kitchen. Located six blocks west of U.S. Cellular Field, Lexington Square in Bridgeport offers three floor plans ranging from 2,216 to 2,559 square feet. Homes come standard with three bedrooms; 2½ baths; oversized private balconies and private rooftop decks; and attached two-car garages. Options at Willow Place and Lexington Square allow for additional bedrooms and powder rooms.
The efficient designs and thoughtful finishing touches in these homes also have attracted buyers, noted Benach. For example, at Lexington Park buyers will enjoy a main-level den in the Warrington plan. Willow Place features arched openings and kitchen pass-thrus with breakfast bars. And in the city, buyers can take advantage of high-end kitchen finishes and features, such as granite countertops, hardwood flooring, 42-inch cabinets, GE stainless steel appliances, and a large island or peninsula with additional cabinetry.
In addition, buyers with an existing home to sell can utilize the builder's Homeseller Assistance Program, which provides a complimentary one-hour consultation with a home-staging expert, as well as the option to list their home with one of the builder's partner real estate brokerage firms at a discounted broker commission of 4 percent.
"We know that buyers are showing more confidence," said Benach about the Chicago real estate market. "But we also know that it takes a lot more to sell a home today than in previous years, which is why we're working harder than ever to continue to build buyer confidence. From assisting with the sale of an existing home to helping new buyers understand and take advantage of the First-time Homebuyer Tax Credit, we're here to help throughout the entire home buying process."
For more information on any of Lexington Homes' communities, the Chicago real estate market, the $8,000 First-time Homebuyer Tax Credit, or the Homeseller Assistance Program, call (773) 360-0300 or visit http://www.lexingtonchicago.com. The site also shows floor plans of the builder's townhomes in Chicago and the suburbs.
A premier name in Chicago real estate, Lexington Homes is one of the city's most successful builders. In the past four decades, Lexington Homes' real estate development team has built more than 40,000 homes in Chicago and surrounding suburbs, solidifying its reputation for excellence and innovation in homebuilding.
###