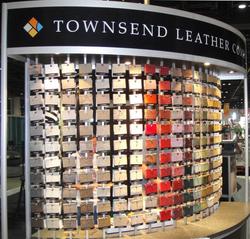 Johnstown, NY (Vocus) September 8, 2010
Celebrating its 63rd year, the NBAA Annual Meeting & Convention will be held in Atlanta, Georgia on October 19 – 21, 2010. This year, Townsend Leather is at the forefront of innovation and design with numerous product launches, displaying a new layout at Booth #2491, and featuring a signature collection designed by Roger Thomas.
WET Leather, a QuickShip Classic Program, soft and supple Vertucci Collection - in both calfskin and deerskin, a firm vegetable-tanned cowhide, and Lambskin Faux Parchment from the Roger Thomas Collection are just a few of the new products that Townsend will be proudly showcasing at this year's NBAA. Along with these new introductions, Townsend Leather's Cutting Program, Care & Cleaning products, and standard qualities of leather will be on display.
The Leather Institute, a long-standing partner of Townsend Leather Group, will be making booth presentations on leather cleaning, maintenance, and restoration. Care & Cleaning products will be available along with information on Townsend's 3M Scotchgard Leather Protector.
Townsend Leather will be hosting an exclusive reception, at an off-site location, to celebrate the launch of the new products shown at NBAA 2010.
Townsend Leather is a 40-year-old U.S.-based manufacturer of upholstery hides and decorative leathers, supplying Corporate, Business, and Commercial Aviation, A & D Residential and Hospitality, Home Furnishings, Motorcoach, and Yachting markets internationally. Townsend Leather prides itself on producing highest quality designer leathers that push the boundaries of what is possible with leather from the perspectives of color, texture, pattern, and cutting edge design.
For more information on Townsend Leather or Townsend's NBAA Booth #2419, contact us at townsendleather.com.
# # #