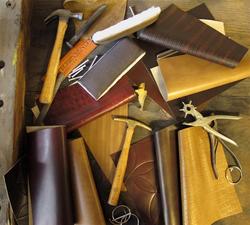 Johnstown, NY (Vocus) September 24, 2010
Taking cues from Old World, hand-crafted leathers, Townsend Leather has created the Vintage Engraved and Vintage Bespoke Collections. These leathers capture the character of artisan made, luxurious cowhide and will be featured at this year's NBAA show.
These products are produced on firm, vegetable-tanned cowhide and are offered with or without gaufrage-embossings. Each hide is hand-rubbed to appear worn and distressed with a fine patina. The firmness of the leather and the contrasting appearance created by the hand-rubbing makes this unique leather suitable for case goods, wall coverings, accessories and ceiling tiles as well as for upholstery.
Vintage Engraved is offered in three popular gaufrage patterns which will compliment any design. Comprised of small and large scaled patterns, the design impression is transferred to the leather by an engraved roller under high heat and low pressure for a natural hand without pattern match lines, creating great cutting yields. Vintage Engraved combines the best in aesthetics and performance.
Vintage Bespoke is offered in coordinating solids and is available in full cowhides. Inspired by the colors of traditional European designs, the rich browns, burgundy, and tans are exquisitely luxurious.
The Vintage Engraved and Vintage Bespoke Collection are now available for sampling at townsendleather.com.
Townsend Leather is a 40-year-old U.S.-based manufacturer of upholstery hides and decorative leathers, supplying the A & D Residential and Hospitality, Home Furnishings, Corporate, Business, and Commercial Aviation, Motorcoach, and Yachting markets internationally. Townsend Leather prides itself on producing highest quality designer leathers that push the boundaries of what is possible with leather from the perspectives of color, texture, pattern, and cutting edge design.
For more information on Townsend Leather or the Vintage Bespoke and Engraved Collections, contact us at townsendleather.com or e-mail info(at)townsendleather(dot)com.
# # #