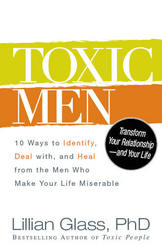 This book addresses not only these personalities we see in the media, but also those whom we encounter every day
Beverly Hills, CA (PRWEB) September 9, 2010
Renowned body language expert and best-selling author of Toxic People™, Dr. Lillian Glass releases its sequel, Toxic Men™: 10 Ways to Identify, Deal with, and Heal from the Men Who Make Your Life Miserable. The book will be available in stores November 2010, but Dr. Glass fans and all those excited about her latest book can secure their copy by pre-ordering it online at amazon.com.
"In the media today, we are constantly bombarded with such 'Toxic Men' who make our headlines--from the shocking antics of Mel Gibson, Jesse James, and Tiger Woods to the drama with Charlie Sheen and Chris Brown. Then there are the politicians, like John Edwards and others. This book addresses not only these personalities we see in the media, but also those whom we encounter every day," summarizes Dr. Glass.
Her latest book, Toxic Men: 10 Ways to Identify, Deal with, and Heal from the Men Who Make Your Life Miserable (Adams Media, November 2010), is not about male bashing--it is designed to empower people in their relationships. It contains valuable tools that can help identify and separate healthy qualities and characteristics from the toxic traits. Toxic Men speaks to people about the traits that are most toxic to them personally.
"It's an interesting phenomenon," points out Dr. Glass. "In Toxic Men, I acknowledge that different people are 'allergic' to certain types of men, based on their own personality makeup. What is toxic to one may not be toxic to another."
As a well respected body language and communication expert, Dr. Lillian Glass examines the types of toxic personalities by taking a closer look at:
Speech Patterns - What does he say?
Voice - How does he say it? Does he speak slowly or quickly? Is there vocal tension?
Body Language Analysis - Does he invade personal space? Rarely touch? Does he lean in or out when he listens? What are his hands doing?
Facial Expressions - Does have good eye contact or is there shifting in his gaze? Does he show appropriate emotion to the discussion? Is there excessive eye blinking, lip licking, or nose scratching?
Armed with essential "people reading skills," readers will be able to determine whether any man is:
1. The Jealous Competitor
2. The Sneaky Passive-Aggressive Silent-but-Deadly Erupting Volcano
3. The Arrogant Self-Righteous Know-It-All
4. The Seductive Manipulative Cheating Liar
5. The Angry Bullying Control Freak
6. The Instigating Backstabbing Meddler
7. The Self-Destructive Gloom-and-Doom Victim
8. The Wishy-Washy Spineless Wimp
9. The Selfish Me-Myself-and-I Narcissist
10. The Emotional Refrigerator
11. The Socio-Psychopath
In the book, Dr. Glass also examines how we can quickly and easily size up a toxic man and, conversely, recognize a healthy one by his body language and other signs. Valuable techniques laid out in the book include:

How to recognize behaviors dangerous to a specific personality type
Finding out why some women become Toxic Men Magnets
A failsafe approach for 1/3 of women who experience relationship abuse
How to Read Online Red Flag Signals
Knowing all options in dealing with specific types of Toxic Men
Discovering unique approaches to healing from a miserable relationship
How to recognize Mr. Right and never again ask "Where are all the good men?"
Preorder a copy of Toxic Men™: 10 Ways to Identify, Deal with, and Heal from the Men Who Make Your Life Miserable by clicking on this link: http://www.amazon.com/Toxic-Men-Ways-Identify-Miserable/dp/144050007X
About Dr. Lillian Glass:
Dr. Lillian Glass is a well respected body language expert and leading authority in the field of communication. As a media personality, she is a regular commentator for the Nancy Grace Show. She is the body language expert for Swift Justice, Dancing with the Stars, Entertainment Tonight, The Insider, and Dr. Phil and has a monthly body language column in Cosmopolitan Magazine. Dr. Glass has also used her skills as an expert witness for both state and federal cases in the area of vocal forensics and behavioral analysis. She has written more than a dozen books, including the bestsellers TOXIC PEOPLE™; He Says, She Says; and a body language book I Know What You're Thinking. Dr. Glass writes her own popular body language blog as well as a blog for Psychology Today. In her private practice in Beverly Hills, she has helped countless clients, among them celebrities, politicians, and world leaders with their body language and communication skills. For more information about Dr. Glass, her blog, products, and services go to http://www.drlillianglass.com.
###