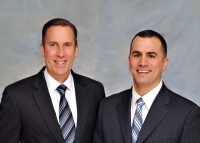 Helping children and their families who have to spend their holidays at Children's Hospital Boston is important way to give back to our community.
Waltham, MA (PRWEB) December 04, 2012
McGeough Lamacchia Realty is hosting a toy drive for Children's Hospital Boston. Beginning December 4, 2012 through December 21, 2012, the McGeough Lamacchia company headquarters will serve as a toy drop off center for children who must spend the holidays at Children's Hospital Boston.
John McGeough and Anthony Lamacchia, co-brokers and owners of McGeough Lamacchia Realty, say the toy drive is a great way to give back during the holiday season.
"Helping children and their families who have to spend their holidays at Children's Hospital Boston is an important way to give back to our community," says John McGeough.
"Children's Hospital has helped my family many times over the years. I'm honored our company can do this toy drive and make a difference so kids can have some fun during their stay at the hospital. It's a great feeling to be able to help," says Anthony Lamacchia.
Danielle Bovill, who works as an outside agent for McGeough Lamacchia Realty, came up with the idea for the company to host the toy drive. Her three year old son has been treated for respiratory and lung problems at Children's Hospital since he was four months old.
"As a mom whose baby has breathing issues it's very scary, but the team at Children's Hospital has been so wonderful with my son and myself. I'm so excited to try and give back!"
On Friday December 21 all donations dropped off at the company headquarters will be collected and loaded into the McGeough Lamacchia company vehicles to be delivered to Children's Hospital in Boston.
McGeough Lamacchia encourages people to drop off brand new, unwrapped toys at their corporate headquarters at 411 Waverley Oaks Drive, Building 3, Suite 311 in Waltham, Massachusetts.
People who can't make it to the Waltham office can email holidaygiveback(at)mlrealtyne.com or call Danielle Bovill at 508-341-8726 to arrange for McGeough Lamacchia to pick up the toys for them. Children's Hospital cannot accept used toys or gifts of food. For people who cannot donate a toy, gift cards in any amount from stores such as Target®, Toys R Us® Best Buy® or Amazon.com® are also accepted.
Suggested Toys to Donate to Children's Hospital Include:

Playstation® 2 games or controllers
Fisher Price® Little People
Superhero figures
Lego® sets
Matchbox® cars
Newer released movies
Smaller individual craft kits
Musical and/or light up infant cause and effect toys
Coloring books
Crayons
Portable DVD Players
DVDs
Puzzle Books (Sudoku, Word Search, etc.)
Au Bon Pain Gift Cards for families who have long waits.
For more information, go to http://www.mlrealtyne.com/holidaygiveback
About McGeough Lamacchia
McGeough Lamacchia Realty is the number one Real Estate Agency in Massachusetts and named one of the fastest growing Real Estate Companies in the U.S in 2012 by Inc. Magazine. They are a full service real estate agency serving home buyers and sellers Massachusetts and New Hampshire.