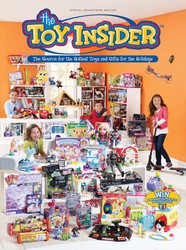 REDBOOK's readers lead busy lives, so come the holiday season, we want to make shopping as easy and wallet-friendly as possible
New York, NY (PRWEB) October 23, 2009
The Toy Insider, an annual consumer holiday toy guide published by Adventure Publishing Group, Inc., is now available both online at http://www.thetoyinsider.com and on newsstands as a special supplement in the November issue of REDBOOK magazine. Featuring the hottest toys and gifts for the holiday season with plenty of budget-friendly selections, the Toy Insider is designed to help readers get a jump on their holiday shopping.
"Consumers are continuing to stick to a tight budget this holiday season," said Jonathan Samet, co-publisher of the Toy Insider. "Our panel of toy experts worked hard to make certain that we picked not only the hottest toy selections but toys that fit every budget, starting as low as under $10."
Jam-packed with tons of toy recommendations, the Toy Insider is a convenient and user-friendly guide, listing gift ideas for boys and girls of ages. Each section - Hot 20, 0-2 years old, 3-5 years old, 6-8 years old and 9+ years old - includes a description of the developmental needs and interests for that specific age group to help readers find the perfect gift. A toy skill key on the Hot 20 page provides a list of icons matched to each toy, offering even greater assistance with age-appropriate gift giving. The Toy Insider website (http://www.thetoyinsider.com) features detailed descriptions of more than 100 toys as well as direct click-through links to most manufacturer web sites, which will stay "live" throughout the holiday season.
"REDBOOK's readers lead busy lives, so come the holiday season, we want to make shopping as easy and wallet-friendly as possible," says REDBOOK vp/publisher Mary Morgan. "The Toy Insider contains great gift ideas for our readers who don't have time to scour the stores in search of the perfect gifts that fit their budgets. And this year, we're bringing these fabulous ideas straight to consumers through our "Living Room Lounge" mall tour."
REDBOOK's multi-city "Living Room Lounge" mall tour (October 17 at the Roosevelt Field Mall in NYC, October 24 at the Woodfield Mall in Chicago, October 31 at The Oaks Mall in Los Angeles and November 7 at the Stonebriar Centre in Dallas), features a dedicated Kids Corner and a national sweepstakes with a room full of toys featured in The Toy Insider for the grand prize winner.
About the Toy Insider:
The Toy Insider is the source for the hottest toys and gifts for the holidays. Now in its fourth year, the Toy Insider is an annual guide featuring toy and gift recommendations broken down by age categories. Jam-packed with more than 100 toy recommendations from more than 60 different manufacturers, each toy was carefully selected by a team of experts all with years of experience in the toy industry. The Toy Insider is published by Adventure Publishing, publisher of leading industry trades The Toy Book and The Licensing Book.
About REDBOOK
REDBOOK magazine (http://www.redbookmag.com) is the total-life guide for every woman who is blazing her own path through adulthood and taking on new roles--wife, mom, homeowner--without letting go of the unique woman she's worked so hard to become. Readers can also interact with the brand with REDBOOK mobile (m.redbook.com). REDBOOK reaches over ten million women each month and is published by Hearst Magazines, a unit of Hearst Corporation (http://www.hearst.com) and one of the world's largest publishers of monthly magazines, with nearly 200 editions around the world, including 15 U.S. titles and 20 magazines in the United Kingdom, published through its wholly owned subsidiary, The National Magazine Company Limited. Hearst reaches more adults than any other publisher of monthly magazines (73.4 million total adults, according to MRI, Spring 2009).
# # #